Major ports in India have been classified into three categories by the Waterways Authority of India: major, minor and intermediate ports. Being one of the biggest peninsulas in the world India coastline covers the area of 7516.6 km. It has 13 major ports, 200 notified minor and intermediate ports, and all are situated in the nine coastal Indian State: Andhra Pradesh, Goa, Gujarat, Karnataka, Kerala, Maharashtra, Orissa, Tamil Nadu and Bengal.
Out of 13 major ports of India, 12 are Government run ports and one, Ennore port of Chennai, is a corporate one and is located at Coromandel Coast Tamil Nadu along with private Krishapatnam Port.
Must Read: Major Rivers in India
12 Major Ports in India
Vizag Port (Andhra Pradesh)
Vizag or the port city of Visakhapatnam, one of the India's largest port and the oldest shipyard, is established on the southeast coast of India in Andhra Pradesh. It is the only natural harbour in the Bay of Bengal. Vizag is situated among the great hills of Estern Ghats. Krishnapatnam port is a privately built deep water port in Andhra Pradesh.
Mormugoa Port (Goa)
Situated in South Goa it is the main port of Goa. It holds the position or one of the leading iron ores and raw materials exporter in India. Alongwith the beautiful city of Vasco da Gama and International Airport Dabolin Mormugoa Port is one of the major attractions of Goa. As the natural harbour of Goa it holds the distinction of being one of India's earliest modern ports.
Kandla Port (Gujarat)
Located on the Gulf of Kutch near first special economic zone in India as well as in Asia. It is the hub for major imports like petroleum, chemicals and iron. Grains, salts and textiles are exported from this port. It is one or the highest earning ports in India. Another port situated in Gujarat is Mundra Port that is India's largest private port.
Also Read: The Himalayas: An insight into their evolution and importance
Panambur Port (Karnataka)
Situated near SurathKal railway station in Dakshine Kannada district of Karnataka, This Port is known as the New Mangalore Port. It is a deep water all weather port. Major commodities like manganese, granite stones, coffee and cashew are exported from here and the main imports comprise timber logs, LPG, petroleum products and cargo containers.
Cochin Port (Kerala)
The Cochin Port, the major port on the Arabian Sea and the Indian Ocean Sea route, is situated on two islands of Willingdon and Vallarpadam. This port has the largest container transshipment facility in India. The port is equipped with maritime facilities such as Cochin Refineries and Kochi Marina. For its traditional spices, Kochi is famous all over the world.
Jawaharlal Nehru Port (Maharashtra)
Situated on the mainland of Konkan area, Maharashtra, it is the King Port of Arabian Sea at the West coast that handles a large volume of International container traffic and domestic cargo traffic. This port's major exports include machinery, vegetable oils, and chemical. It is the largest container port among major ports in India. Formerly it was known as Nhava-Sheva Port.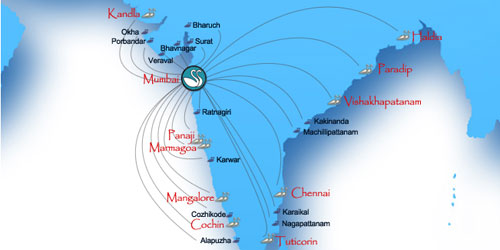 Have a Look at Indian River Systems
Mumbai Port
Situated in the mainland of West Mumbai on the West Cost, this is the largest among ports in India. With its four Jitters it deals in bulk cargo traffic for handling Liquid chemicals, Crude and petroleum products. Mumbai Port's International container traffic is directed to the new and big Nhava Shiva Port.
Port Blair (Andaman)
Situated at the Juncture of the Bay of Bengal and Andaman Sea, Port Blair, the youngest sea port among ports in India, is the capital city of Andaman Nicobar Islands. This Island port is connected to Indian mainland through flight and ship. This port is the principal hub for shipping in the Andaman Islands. It is known for its scuba diving, water sports and virgin beaches.
Tuticorin Port (Tamil Nadu)
One of the largest container terminals in India, the artificial deep-sea port of Tuticorin is a all-weather port that gets a large volume of International traffic. It is a best port for maritime trade and pearl fishery on the Bay of Bengal.
You May Also Read: Major Freshwater Lake in India
Chennai Port
The largest port in the Bay of Bengal and the second largest port in the country, Chennai port handle automobiles, a variety of cargo containers, coal terminals comprise of lighthouses, Intra port connectivity, Pipelines and railway terminus.
Paradip Port (Orissa)
Situated at the conjecture of river Mahanandi and the Bay of Bengal the Jagatsinghpur district of Orissa, Paradip Port is a deep water artificial port of East Coast. Though a national highway connects the port with the Indian road networks, it has its own railway system and cold handling part.
Haldia Port (West Bengal)
Located near the Hooghly River of West Bengal Calcutta or Haldia Port is a very important trade center for Kolkata, which gets bulk cargoes of chemicals, petrochemicals and oils. This port also functions as a base of Indian Coast Guard.
Don't Miss: Transport in India