MOKSHAGUNDAM VISVESVARAYA: A BORN ENGINEER AND BUILDER OF MODERN INDIA
The present day India is glowing with multi-storeyed buildings, heavy manufacturing industries, huge dams & reservoirs and well planned cities. The pioneer of building this modern Indiais the great engineer SIR MOKSHAGUNDAM VISVESVARAYA, who always dreamed of seeing a technologically advanced and industrialized India with a modern outlook.
In pre independence situation, with inadequate facilities and in adverse conditions M Visvesvaraya created many economically viable constructions and also historical projects like KRISHNARAJA SAGAR dam of Mysore, OSMAN SAGAR of Hyderabad and so on. He always aimed of modernising India and contributed his best for the same.
He served as an Engineer of varios cadres, Diwan of Mysore and Board of Director of TATA group of companies and utilised every single opportunity for the progress of the country. The Government of India celebrates the birthday of VISVESYARAYA, 15th September of every year as THE ENGINEERS DAY.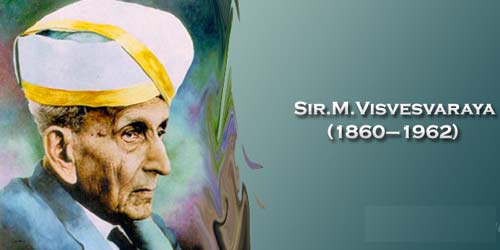 CHILDHOOD AND EARLY LIFE:
Mokshagundam Visvesvaraya was born into a family of four on 15th September 1860 in a village called MUDDENAHALLI of MYSORE princely state which was now in Karnataka. Even from his childhood, Visvesvaraya showed signs of engineering bent of mind. When Visvesvaraya was at thirteen, his father passed away and his family went into deep financial crisis.
Visvesvaraya, however managed his studies and obtained his bachelor's degree fromCENTRAL COLLEGE, Bangalore in 1881. During his college, he used to take tuitions in the morning and attend the college afterwards to support his family. He always stood first in his studies and even attained rare scholarships too. At the age of 24, Visvesvaraya completed his engineering from the famous PUNE COLLEGE OF ENGINEERING.
CAREER AS AN ENGINEER:
M VISVESVARAYA joined the British Government as an ASSISTANT ENGINEER in Public works department of BOMBAY PRESIDENCY IN 1885. Since then, Visveyaraya started working very hard and always used innovative and novel ideas to solve the problems. In 1909, he joined Mysore state as chief engineer and also woked as diwan. Some of his achievements are:
During his early days as an engineer in Bombay presidency he devised new water filtration system in sukkur village where the people were frequently affected by diseases due to unclean drinking water. Then the people of that honoured visvesvaraya very much for his services.
He also worked as a freelance engineer in many areas such as Bijapur, Kolhapur, Goa, Rajkot, Bhavnagar, Nagpur, Bikaner, Baroda, Bhopal and so on. Everywhere, he applied simple principles of engineering to provide clean drinking water, increase storage capacity of tanks and making the regions free from floods, droughts and diseases.
He was solely responsible for transforming mosquito ridden Hyderabad into a beautiful city by constructing OSMAN SAGAR reservoir.
He was the inventor of AUTOMATIC SLUICE GATES and BLOCK SYSTEM OFIRRIGATION which are widely used these days.
As a chief engineer of Princely state of Mysore, he built the Krishna raja sagar dam, in Mysore which was the largest hydro-electric project at that time. Brundavan Gardens, MYSORE SILK INDUSTRY, SANDAL WOOD SOAP COMPANY and so on were the famous projects dealt by him.
As a DIWAN OF MYSORE STATE, Visvesvaraya strived hard for all-round development of the state by setting up universities and industries all over the state.
POST RETIREMENT LIFE:
Even after retirement as DIWAN OF MYSORE in 1919, Visvesvaraya continued his contributions as an engineer.
He supervised many government projects and provided his valuable feedbacks
He served as a board of director in TATA group of industries for 28 years involving in many historical steel manufacturing and automobile manufacturing industries of the group.
He visited many European countries and always wanted India to follow their industrial models. He also given a slogan "INDUSTRIALISE OR PERISH".
He also received many honorary doctorates, knighthood of the crown of the empire. In 1955, Indian government honoured M Visvesvaraya with the highest honour BHARAT RATNA. Finally, Visvesvaraya died at the age of 101 years in 1962.
CONCLUSION:
The contemporary engineers of India should take MOKSHAGUNDAM VISVESVARAYA'S life as an inspiration and should remember his saying "NATURE NEVER EXCUSES LAPSES".