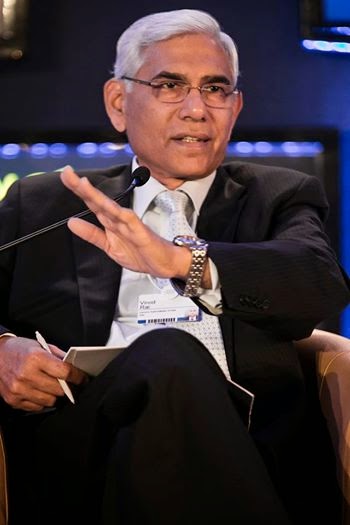 MOST POWERFUL INDIAN'S- INDIA's TOP BUREAUCRATS- HIGH & MIGHTY:

2. Vinod Rai- Number Cruncher

63, Comptroller and Auditor General of India – Awarded -2013 Civil Servant achieving Excellence in Public Administration, 2013 Outstanding contribution to the Indian economy
Vinod Rai (born 23 May 1948) was the 11thComptroller and Auditor General of India. He assumed office on 7 January 2008 till 22 May 2013. He is the current chairman of UN Panel of External Auditors.
He holds a Masters Degree in Economics from the University of Delhi, and Masters in Public Administration from HARVARD University. He is widely considered as symbol of the anti-corruption movement and is credited with having turned the office of CAG into a powerful force for accountability and transparency in contemporary India.
Because every time he exposes financial irregularities in state spending, whether on cwg, 2G auctions, Air India mismanagement or 'Coalgate', his credibility increases and that of the Government ebbs.
Because in four years, he has made the once moribund Comptroller and Auditor General (CAG) a force to reckon with.
Because he is not afraid of taking on anyone, not even the Prime Minister, who accused him of exceeding his brief, and to whom he wrote a rejoinder.
Because from the Antrix-Devas deal to the farmer suicides relief package, he is working on many more explosive reports.
Green thumb He maintains a manicured garden and grows organic vegetables at his 2, Kushak Road home in the heart of Lutyens' Delhi.
Aiming high Rai is a mountaineering enthusiast and leads the young probationers of Indian Audit and Accounts Service on climbing trips; his last being the mountains of Chamba in September 2011.
Different strokes He has an excellent first serve, and plays tennis at least five days a week in the parking lot-turned-tennis court at the old CAG office.
WATCH THIS SPACE FOR MORE TOP BUREAUCRATS IN INDIA