Today on 8th March 2019, five judges constitution bench of Supreme Court appointed a panel for mediation in Ayodhya dispute.
Earlier it was reported that among four parties, two (Muslim Party and Nirmohi Akhada) were ready for the mediation but other two (Ramlalla Virajman, Hindu Mahasabha) were not in favor of mediation at this stage of legislation.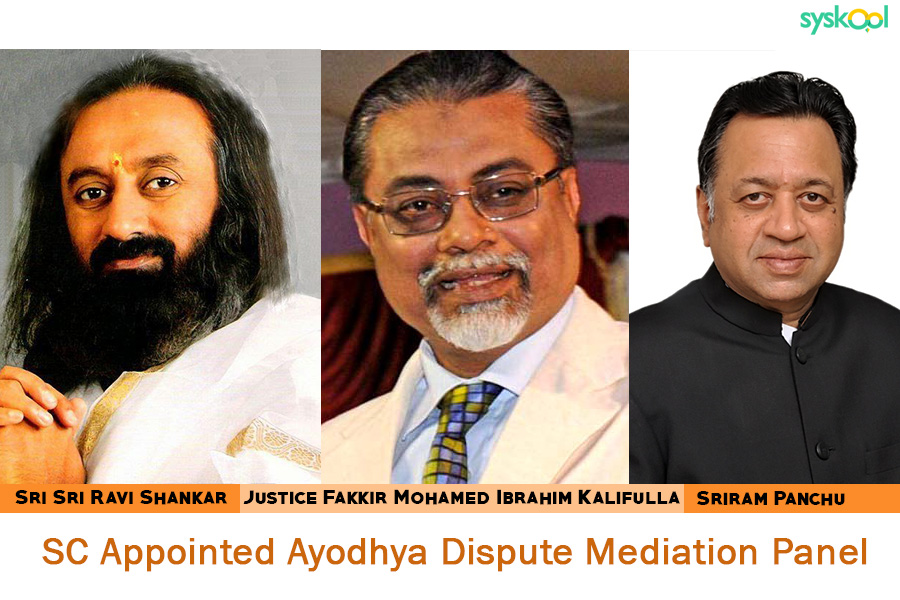 The mediation process is to be completed in eight weeks while the first report to be submitted before the supreme court in four weeks.
Ayodhya Dispute Mediation Panel
Supreme Court of India has appointed a three-member panel for ram mandir dispute mediation chaired by retired Justice Fakkir Mohamed Ibrahim Kalifulla. Other two members are Sri Sri Ravi Shankar and Sriram Panchu.
Justice Fakkir Mohamed Ibrahim Kalifulla
Retired as Judge of Supreme Court of India in 2016
Appointed as Supreme Court Justice in 2012
Appointed as Chief Justice of the High Court of Jammu and Kashmir in 2011
Appointed as a judge of the Madras High Court in 2000
Advocate since 1975
He is from Tamil Nadu
Sri Sri Ravi Shankar
Famous as Indian spiritual leader
Founder of Art of Living Foundation
He is also from Tamil Nadu
Sriram Panchu
Senior Advocate with 40 years of law practice
Renowned Mediator and Arbitrator
Founder of Concord Mediation
President of the national association Mediators India
A Director on the Board of the International Mediation Institute (IMI)
He is also from Tamil Nadu
Mediation process is to be held in Faizabad, Uttar Pradesh. Faizabad city forms a municipal corporation with Ayodhya.