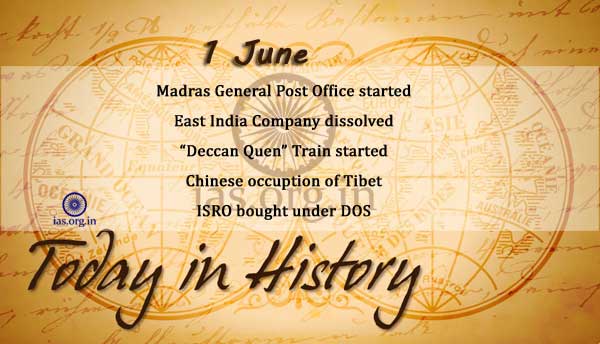 1774
The British government ordered the port of Boston to be closed.
1786
Madras General Post Office started functioning.
1790
A trilateral treaty was signed between Marathas, Britishers and Nizam.
1819
William Carey, Ward and Marshman established the Serampore College in Bengal.
1842
Satyendranath Tagore, Bengali officer and litterateur, was born.
1874
East India Company was dissolved
1904
Four Language panel were used for Rangoon. This panel had languages namely Burmese, Urdu, Tamil and Chinese.
1916
Lokmanya Tilak roared "Freedom is by birthright" at Ahmednagar.
1921
A race riot erupted in Tulsa, Oklahoma, killing 85 people.
1930
First Indian luxurious fast train 'Deccan Queen' started from Victoria Terminus (CST) to Pune.
1933
Fortnightly 'Bal Sanmitra' was published.
1941
The German Army completed the capture of Crete as the Allied evacuation ended.
1945
Tata Fundamental Research Institute was established.
1959
The Chinese occupy Tibet and Dalai Lama fled to India.
1959
National Aeronautical Research Laboratory (NARL) set up under CSIR with temporary offices in New Delhi. Dr. P. Nilakantan was appointed as NARL's first Director.
1959
N.G. Ranga resigned from the Indian National Congress and took up the leadership of the newly formed Swatantra Party.
1964
Nava Paisa, established in 1947, was renamed as 'Paisa'.
1972
Space Commission and Department of Space was set up and the Indian Space Research Organisation (ISRO) was brought under Department of Space (DOS).
1992
Dr. Babasaheb Ambedkar Academy was established  at Satara.
1997
Ghulam Rasool Wani, National Conference leader, kidnapped and shot dead by militants at Kaskot in Doda district, Jammu.
Also Read: