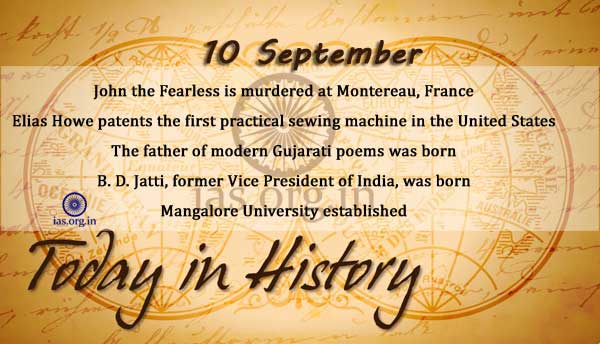 1419
John the Fearless is murdered at Montereau, France, by supporters of the dauphin.
1623
Lumber and furs are the first cargo to leave New Plymouth in North America for England.
1623
Shah Jahan entered Rajputana and raided Amber crossing the Tapti. He arrived near the kingdom of Golconda and from there passed on to Orissa which was surrendered to him.
1846
Elias Howe patents the first practical sewing machine in the United States.
1858
Manilal Nathubhai Dwivedi, great author and father of modern Gujarati poems, was born.
1887
Govind Ballabh Pant was born in village Khunt, Almora District, U.P. He served eight years as the Chief Minister of Uttar Pradesh.
1912
B. D. Jatti, former Vice President of India, was born.
1914
The six-day Battle of the Marne ends, halting the German advance into France.
1918
Muslim riots break out in Calcutta.
1966
Parliament approved the Punjab Re-organisation Bill for the formation of Haryana and Punjab as two independent states.
1976
An Indian Airlines Boeing 737 aeroplane was hijacked for the second time and taken to Lahore, Pakistan.
1977
The Planning Commission decides to introduce the Rolling Plan concept.
1980
Mangalore University established.
1993
India and South Korea sign agreement to expand trade and investment.
Also Read:
Today in History – 9 September
Today in History – 8 September
Today in History – 7 September