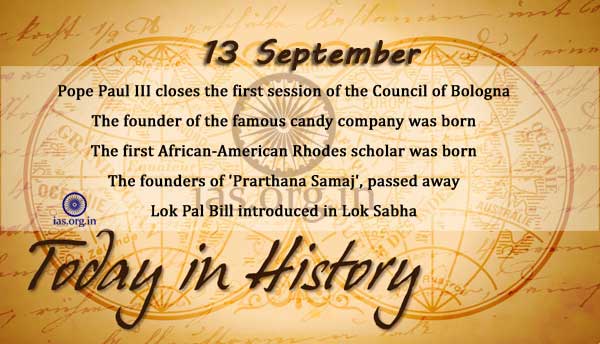 1500
Pedro Alvaris, Portugese businessman, reached Calicut and established the first European factory in India.
1515
King Francis of France defeats the Swiss army under Cardinal Matthaus Schiner at Marignano, northern Italy.
1549
Pope Paul III closes the first session of the Council of Bologna.
1788
The Constitutional Convention authorizes the first federal election resolving that electors in all the states will be appointed on January 7, 1789.
1847
Milton Hershey, founder of the famous candy company, was born.
1886
Alain Locke, writer and first African-American Rhodes scholar, was born.
1893
Mama Parmanand, one of the founders of 'Prarthana Samaj', passed away.
1901
Jamshedji Bomanji H. Wadia, director and producer, was born. His first film was 'Toofan Mail' (1932).
1945
Iran demands the withdrawal of Allied forces.
1961
An unmanned Mercury capsule is orbited and recovered by NASA in a test.
1965
Pakistanis bomb Bombay.
1990
An attempt to hijack a Coimbatore-Bangalore-Madras Indian Airlines flight IC 534 to Sri Lanka.
1992
Union government decides to form a National Human Rights Commission.
1996
Lok Pal Bill introduced in Lok Sabha.
1997
Grieving India lays to rest Mother Teresa in state funeral in Calcutta in which pomp and splendour is combined with religious rites.
2000
Central Government withdraws the ban on use of non-iodised salt despite protests from the medical community and several state governments.
Also Read:
Today in History – 12 September
Today in History – 10 September
Today in History – 9 September