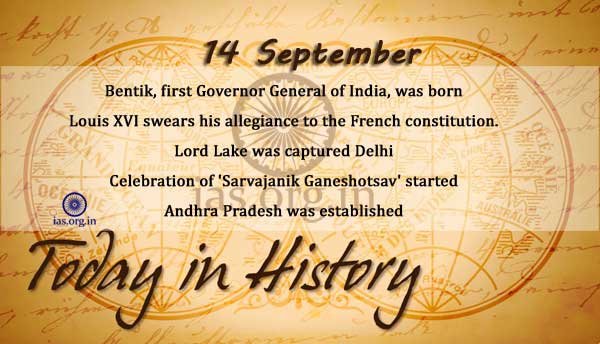 1146
Zangi of the Near East is murdered. The Sultan Nur ad-Din, his son, pursues the conquest of Edessa.
1774
Bentik, first Governor General of India, was born.
1791
Louis XVI swears his allegiance to the French constitution.
1803
Lord Lake was captured Delhi.
1820
Agri-Horticultural Garden of Calcutta started functioning.
1853
The Allies land at Eupatoria on the west coast of Crimea.
1893
Celebration of 'Sarvajanik Ganeshotsav' (Festival of Lord Ganesha) started.
1933
Gandhiji declares one-year moratorium on civil disobedience in India.
1949
Hindi declared the national language by the Constituent Assembly after a three-day debate.
1953
Andhra Pradesh was established. Hyderabad became the capital instead of Karnul.
1965
Pakistan Air Force bombs Calcutta and Agartala civilian airports.
1967
US announces plan to give India $1.3 million to buy contraceptives.
1991
Assam declared 'disturbed area', army launches 'Operation Rhino' against ULFA militants.
1992
The government allows foreign investors to enter the Indian capital market; incentives offered.
2007
Northern Rock Bank suffers the UK's first bank run in 150 years.
Also Read:
Today in History – 13 September
Today in History – 12 September
Today in History – 10 September