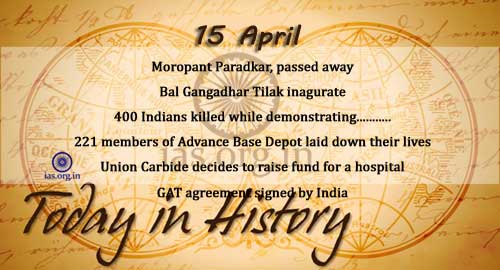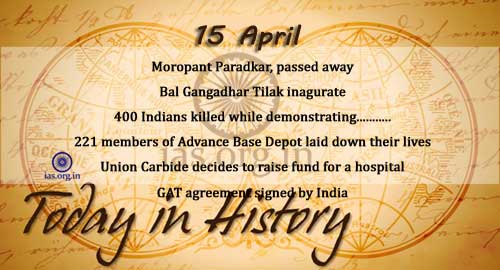 1794
Moropant Paradkar, great poet of Marathi in Peshwa kingdom, passed away.
1895
Bal Gangadhar Tilak inagurated the Shivaji Mahotsav at Raigad Fort.
1919
British troops killed 400 Indians who were demonstrating against the British rule at Amritsar for the forced marshall law on Punjab
1946
The Kangla Tongbi war memorial was built for 221 members of Advance Base Depot, who laid down their lives to repulse several waves of Japanese attacks, was erected near a village named Kangla Tongbi at Mile 8 on the Imphal – Dimapur road. It was originally erected from local stone and the main epitaph displayed above is of black Naga stone.
1948
Indian territory of Himachal Pradesh was created by the merger of some 30 small ruling states
1948
Purushottamdas Tandon was honoured with the title of 'Rajashri' at a huge rally by Devaraha Baba.
1962
S. S. Khera was appointed as the Cabinet Secretary of India. He held this office till 18-11-1964
1975
Janata Party held its `People's March' to Parliament
1984
Extremist Sikhs plunder 40 stations in Punjab, India
1992
Union Carbide decided to sell its holding in India to raise  upto $ 17 million for a hospital in Bhopal.
1994
India signed `GAT' agreement.