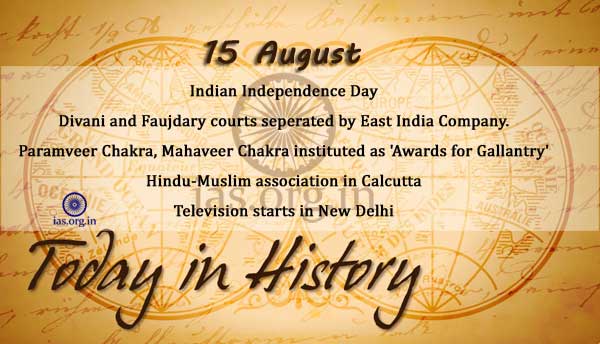 1947
Indian Independence Day
1772
Divani and Faujdary courts seperated by East India Company.
1867
Bhartendu Harishchandra publishes a Hindi monthly 'Kavi Vachan Sudha'.
1947
Sir Cyril Radcliffe Award on the new boundaries of West Punjab, East Punjab, West Bengal, East Bengal and Assam.
1947
India gains independence from the British rule and Pakistan emerges as a separate Islamic nation. Around 600,000 die in clashes during the subsequent population exchange of 14 million people between the two new countries.
1947
At the stroke of midnight, India is free after 163 years of British Raj. At the same time Muslims win a degree of freedom from Hindus. They have their own separate dominion Pakistan in the British Commonwealth Sect.
1947
Paramveer Chakra, Mahaveer Chakra, Veer Chakra instituted as 'Awards for Gallantry'.
1947
Hindu-Muslim association in Calcutta.
1947
Pandit Jawaharlal Nehru becomes the first Indian Prime Minister of free India.
1947
Brigadier Thakur Mahadeo Singh was the first Indian Commandant. He was the DSO of Indian Militery Academy.
1950
Indian Constitution goes into effect.
1955
Satyagrah started for the freedom of Goa.
1960
Maharashtra State Sahkari Grihvitta Corporation was established.
1965
Television starts in New Delhi.
1968
Marathwada', a daily newspaper, published.
1972
Postal Index Number (PIN Code) of 6-digits was introduced.
1982
Doordarshan's national programme and the first nationwide colour transmission started by Delhi Doordarshan.
1990
Uttar Maharashtra University was established.
1993
Five more Doordarshan channels launched.
1999
Atal Bihari Vajpayee, Prime Minister, says Agni-2 to be inducted in the defence arsenal.
Also Read: