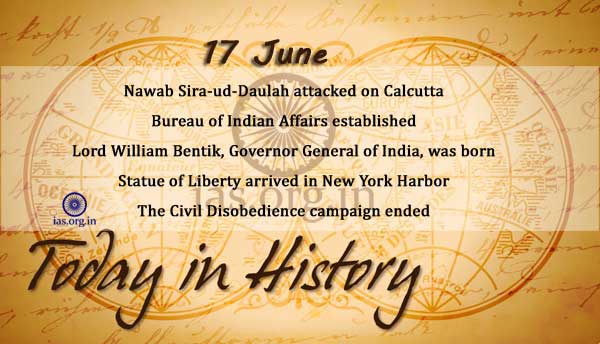 1674
Jijabai, mother of Chhatrapati Shivaji Maharaj, died.
1756
Nawab Sira-ud-Daulah attacked on Calcutta with 50,000 soldiers and captured it on June 21.
1824
Bureau of Indian Affairs established.
1839
Lord William Bentik, Governor General of India, was born.
1862
Lord Charles Jhon Canning, Governor General and Viceroy of India (1856-1862), died.
1885
On this day in 1885, the dismantled Statue of Liberty, a gift of friendship from the people of France to the people of America, arrived in New York Harbor after being shipped across the Atlantic Ocean in 350 individual pieces packed in more than 200 cases. The copper and iron statue, which was reassembled and dedicated the following year in a ceremony presided over by U.S. President Grover Cleveland, became known around the world as an enduring symbol of freedom and democracy.
1887
Dr. Kailas Nath Katju, freedom fighter, politician, leader and Governor of Orissa and West Bengal, was born.
1913
Waman Vasudev Chitle (Bal Chitle), Marathi story writer and editor, was born.
1917
Mahatma Gandhi and Kasturba started living at Hriday Kunj in Sabarmati Ashram in Ahmedabad.
1928
Pandit Gop Bandhu Das, famous writer, social worker and the creator of Orissa, passed away.
1933
The civil disobedience campaign ended.
1947
Burma was adopted as republic by constitution assembly.
1961
The HF-24 Marut supersonic fighter, designed by German engineer Kurt Tank, makes its maiden flight.
1973
Leander Vece Paes, tennis player who won a singles bronze at Atlanta Olympics (1996), was born. He was also a winner of French Open in 1999, Gold Flake Open, Newport 1998, Wimbledon 1999 (doubles and mixed doubles).
1976
Montreal Olympics opens.
1991
Bharat Ratna, India's highest award, was given to Rajiv Gandhi (Posthumous) (1944-1991).
1991
Bharat Ratna, India's highest award, was given to Sardar Vallabhbhai Patel (Posthumous) (1875-1950).
Related Articles: