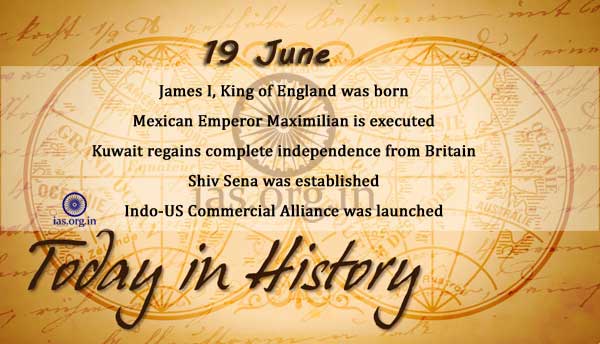 240 BC
Eratosthenes estimated the circumference of Earth using two sticks.
1566
James I, King of England (1603-1625), was born.
1747
Nadirshaha passed away.
1867
Mexican Emperor Maximilian was executed.
1934
The National Archives and Records Administration was established.
1949
People of Chandernagar, the French Indian Settlement, decided to merge with the Indian Union.
1961
Kuwait regained complete independence from Britain.
1966
Shiv Sena was established.
1981
APPLE, India's first experimental geo-stationary telecommunication satellite having experimental communication satellite,was successfully launched by European Ariane, Kourou, French Guiana. This was the first to be stabilized on 3 axes.
1990
NDC approved approach paper to the Eighth Plan.
1995
In an unprecedented move, UP Speaker Dhani Ram Verma adjourned the two-day special session called to prove Mayavati Government's majority in the House. Later, the House gathers, rejected the sine die adjournment and unanimously elected B.R. Verma (BSP) as new presiding officer to conduct the business of the House.
1995
India and US officially launched Indo-US Commercial Alliance during US Trade Secretary's visit.
1997
Indian Prime Minister and his Pakistani counterpart Nawaz Sharif, spoke for first time on restored hotline, to reiterate their committment to comprehensive dialogue, including Kashmir.
Also Read: