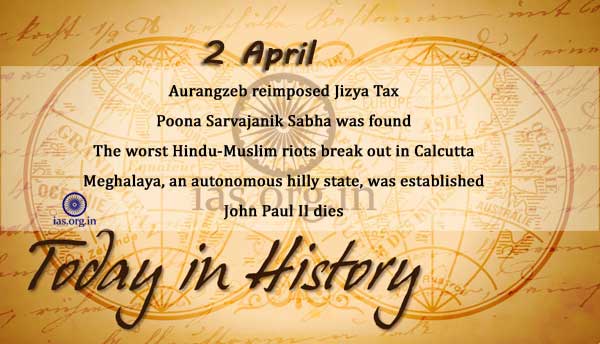 1679
Aurangzeb reimposed Jizya Tax to finance the spread of Islam among Hindus.This Jeziya tax was abolished by Akbar.
1702
Balaji Vishwanath Bhat, first Peshwa, passed away.
1870
Poona Sarvajanik Sabha was founded in which 95 members from different parts of Maharashtra assembled in Pune during this ceremony.
1926
The worst Hindu-Muslim riots broke out in Calcutta.
1942
In Andaman Islands, U.S. Army Air Force Flying Fortresses  bombed the Japanese fleet.
1948
Defence Minister announces the establishment of the National War Academy in Kharakvasla, Poona.
1954
Nehru calls for a halt to the build up of nuclear weapons.
1970
Meghalaya, an autonomous hilly state, was established after dividing the hilly areas of Assam.
1972
The great silent film actor and filmmaker Charlie Chaplin prepared for his first voyage to the United States since 1952, when he was denied a re-entry visa amid questions about his leftist politics.
1987
Indian Standards Institution becomes Bureau of Indian Standards.
1991
Haryana Governor recommends President's rule.
1997
A division bench of Mumbai High Court holds that a married woman of a joint Hindu family can stake claim to her father's property.
2000
Guru Granth Sahib is a juristic person and can hold property, says the apex court in a judgment of "far-reaching consequences and great significance".
2005
John Paul II, history's most well-traveled Pope and the first non-Italian to hold the position since the 16th century, dies at his home in the Vatican. Six days later, two million people packed Vatican City for his funeral that is said to be the biggest funeral in history.
Related Articles: