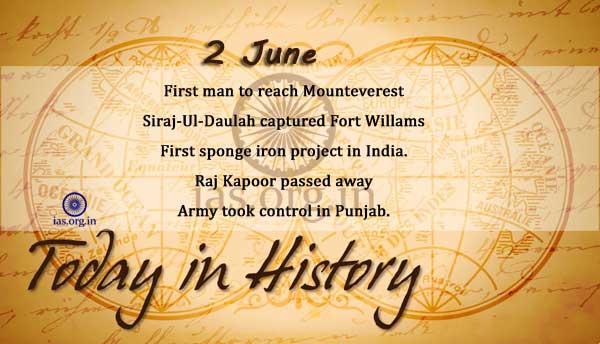 1756
Fort William, the English stronghold in Bengal, was surrendered to Siraj-ud-Daulah.
1934
Nissan Motor Company founded.
1908
Sri Aurobindo, freedom fighter, was arrested in Manik Tala Bomb explosion case.
1953
Mountaineer Edmund Hillary of New Zealand and his Nepalese Sherpa guide Tensing became the first men to conquer Mount Everest, the world's tallest mountain. The two reached the pinnacle of Everest, more than 29,000 feet above sea level, at 11.30 a.m.
1965
The second of 2 cyclones in less than a month kills 35,000 (Ganges R India).
1975
India's First Sponge Iron project inaugurated at Vijaywada.
1984
Army took control in Punjab as 22 people were killed in Sikh struggle for autonomy. The state was declared a restricted area under the Foreigners' Act.
1988
Raj Kapoor, famous film actor, director and Dadasaheb Phalke awardee, passed away.
1989
10,000 Chinese soldiers were blocked by 100,000 citizens protecting students demonstrating for democracy in Tiananmen Square, Beijing.
1992
The government accepted all the 15 recommendations of the Janakiraman Committee which unearthed massive collusion of banks in the security scam.
1997
Saudi Boeing 747 Jumbo with 348 people on board missed the Meenambakkam international airport, Chennai and forcelands at Tambaram Air Force strip.
Also Read: