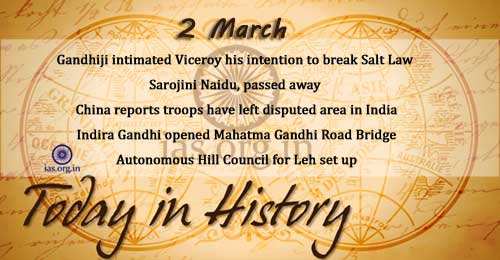 1930
Gandhiji addresses letter to Viceroy intimating his intention to break Salt Law if Congress demands are not conceded.
1949
Sarojini Naidu, "Nightingale of India", freedom fighter, social worker and patriot, passed away when she was the Governor of Uttar Pradesh. She also holds a place of pride among the women freedom fighters of India. She presided over the Kanpur session of Indian National Congress. She took active part in Salt Satyagraha and represented Indian women in Round Table Conference, London.
1952
Sindri Fertilizer Factory, Bihar, formally inaugurated by Nehru. It was the first Government owned company.
Also Read: Today in History Articles
1957
Central Warehouse Corporation established.
1963
China reports troops have left disputed area in India.
1982
Indira Gandhi opened Mahatma Gandhi Road Bridge at Patna.
1984
Mother Teresa University inaugurated by Mother herself at Kodaikanal in Tamil Nadu.
1994
Autonomous Hill Council for Leh set up.
Also Read: Today in History – 1 March