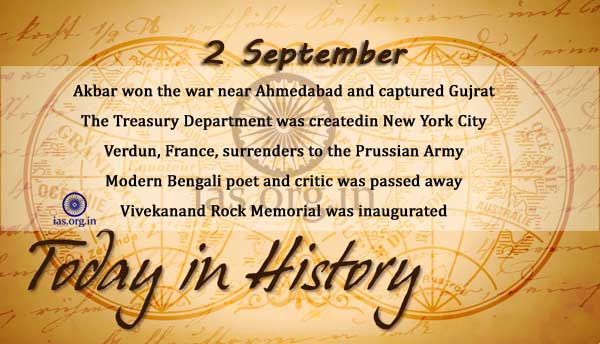 1573
Akbar won the war near Ahmedabad and captured Gujrat.
1666
The Great Fire of London, which devastates the city, begins.
1789
The Treasury Department, headed by Alexander Hamilton, is created in New York City.
1792
Verdun, France, surrenders to the Prussian Army.
1870
Napoleon III capitulates to the Prussians at Sedan, France.
1894
Vinayak Mishra, famous Oriya litterateur, critic and historian, was born.
1944
Troops of the U.S. First Army enter Belgium.
1946
Jawaharlal Nehru, was sworn in as the Prime Minister of the Interim Government of Undivided india, against Partition.
1946
Pratham Chaudhary (Birbal), modern Bengali poet and critic, passed away.
1947
Gandhiji is mobbed in Calcutta house; gives up idea of Noakhali visit. Peace efforts intensified.
1970
Parliament abolishes the privileges of 279 maharajahs in New Delhi.
1970
President V. V. Giri inaugurated, Vivekanand Rock Memorial' at Kanyakumari.
1984
Thousands of Sikhs rally at Golden Temple to protest govt. occupation in Amritsar.
1992
The US and Russia agree to a joint venture to build a space station.
1998
Nishant, the pilotless training aircraft developed by DRDO, is successfully flown from Chandipore.
Also Read:
Today in History – 1 September