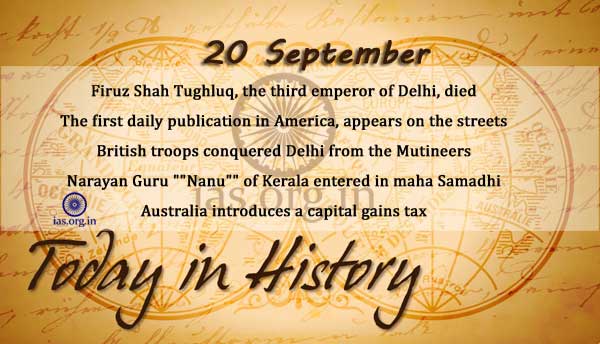 1388
Firuz Shah Tughluq, the third emperor of Delhi, died at the age of 83.
1784
Packet and Daily, the first daily publication in America, appears on the streets.
1819
Jose Custodio Faria (Joseph Stadio Faria), revolutionary scientist of Goa died.
1850
The slave trade is abolished in the District of Columbia.
1857
British troops conquered Delhi from the Mutineers.
1878
Hindu', an English weekly in Madras with G.S. Aiyer as its Editor, was first published with only 80 copies.
1911
Sri Ram Sharma Acharya, freedom fighter, social reformer and leader, was born at Auvalkhera, Agra.
1928
Narayan Guru ""Nanu"" of Kerala entered in maha Samadhi.
1933
Annie Besant, veteran freedom fighter for India, died.
1952
Scientists confirm that DNA holds hereditary data.
1985
Australia introduces a capital gains tax.
1989
IPKF suspends its operations against LTTE in Sri Lanka. LTTE, in turn, ceases all operations against the Indian armed forces.
1993
First developmental launch of PSLV and Indian Remote Sensing Satellite (IRS-1E) carried remote sensing payloads. Could not be placed in orbit.
1997
President K. R. Narayanan inaugurates the first Dr. Ambedkar Law University in Chennai, Tamil Nadu.
Also Read:
Today in History – 19 September
Today in History – 14 September
Today in History – 13 September