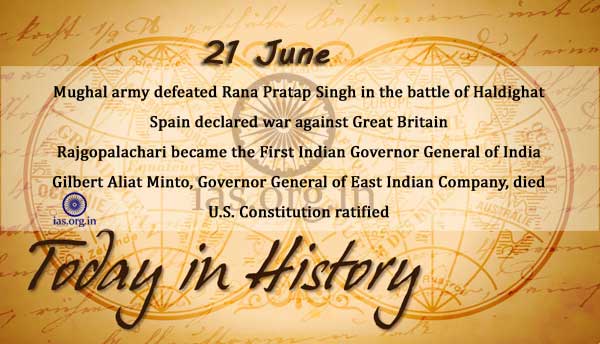 1576
Mughal army defeated Rana Pratap Singh in the battle of Haldighat.
1779
On this day in 1779, Spain declares war on Great Britain, creating a de facto alliance with the Americans.
1788
New Hampshire becomes the ninth and last necessary state to ratify the Constitution of the United States, thereby making the document the law of the land.
1814
Gilbert Aliat Minto, Governor General of East Indian Company, died.
1862
Ganendra Mohan Tagore was the first Indian to get the Barrister-at-Law Degree after passing the examination from Lincoln Inn University.
1906
Vyomeshchandra Banerjee, first president of All India Congress, passed away.
1940
Keshavrao Baliram Hedgewar, politician and founder of Rashtriya Swayansewak Sangh (RSS), passed away.
1941
Chakravorty Rajgopalachari became the First Indian Governor General of India.
1948
C. Rajagopalachari was appointed the first Indian Governor General of Indian union (21/06/1948-25/01/1950). After January 25, 1950, this post was abolished.
1991
P. V. Narasimha Rao was sworn in as the ninth Prime Minister of India. He reimained in this office till May 16, 1996. He formed a 54-member ministry in the 10th Parliament.
1998
India and Russia sign a $2.5-billion deal to set up a nuclear power station at Koodankulam in Tamil Nadu.
1999
Leander Paes was seeded number one in double's ranking. This was his highest double ranking.
Related Articles: