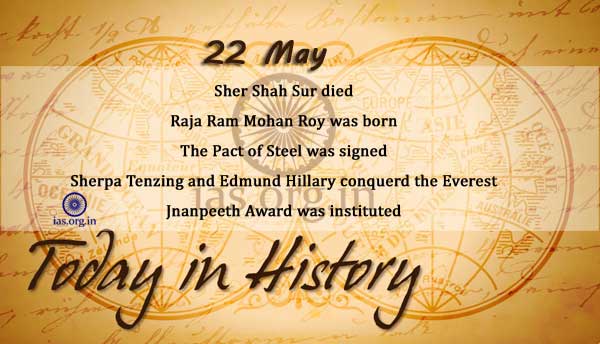 1545
Sher Shah Sur died. He was fatally wounded in an explosion on Kalanjara fort while preparing for an attack. He introduced the new silver rupee-coin "Rupiya" based on ratio of 40 copper coin pieces (paisa) per rupee and built several roads including the longest road of India known as Grand Trunk Road (now Natioinal Highway).
1772
Raja Ram Mohan Roy, great social reformer, lawyer and politician and founder of Brahmo Samaj, was born at Radhanagar in Hooghly district, Bengal. (1771 or 1772)
1843
A massive first major wagon train, made up of 1,000 settlers and 1,000 head of cattle, sets off down the Oregon Trail from Independence, Missouri. Known as the "Great Emigration," the expedition came two years after the first modest party of settlers made the long, overland journey to Oregon.
1859
It's the birthday of Sir Arthur Conan Doyle, the creator of master sleuth Sherlock Holmes.
1917
Suniti Chaudhary, revolutionary freedom fighter, was born at Kumilla. She was one of the accused in the famous Chargaon ammunition plot and assassination of General Lemen, Inspector General of Dhaka.
1936
Lord Brabourne laid the foundation stone of Brabourne Stadium in Bombay.
1939
On this day in 1939, Italy and Germany agreed to a military and political alliance, giving birth formally to the Axis powers, which will ultimately included Japan. Mussolini coined the nickname "Pact of Steel" (he had also come up with the metaphor of an "axis" binding Rome and Berlin) after reconsidering his first choice, "Pact of Blood," to describe this historic agreement with Germany.
1940
Erapalli Anantrao Srinivasarao Prasanna, cricketer (one of India's big four spinners, Right-arm Off-break Bowler), was born at Bangalore. He was also the receipent of Arjun Award (1968) and Padmashree (1970).
1953
Sherpa Tenzing Norgay of Darjeeling and Edmund Hillary of New Zealand were the first to conquer the Mount Everest (World).
1961
Jnanpeeth Award was instituted and the first award was given in 1965. This award is given for the best creative literary writing by any Indian citizen in any of the languages included in the VIII Schedule of the Indian Constitution. The award carries a cash price of Rs 2.5 lakh, a citation and a bronze momento.
1963
Rohini, Glider, became the first to successfully fly at Kanpur.
1970
Vijayanand Patnaik established political party `Utkar Congress'.
1989
IRBM 'Agni' Missile launched successfully from Chandipur, Orissa.
1990
After 150 years apart, Marxist South Yemen and conservative North Yemen were unified as the Republic of Yemen. Ali Abdullah, president of North Yemen, became the new country's president, and Ali Salem Al-Baidh, leader of the South Yemeni Socialist Party, vice president. The first free elections were held in 1993.
1992
India launched its 'Agni' rocket.
1996
United Front prime ministerial candidate H.D. Deve Gowda unanimously was elected leader of the Front's parliamentary party.
Related Articles: