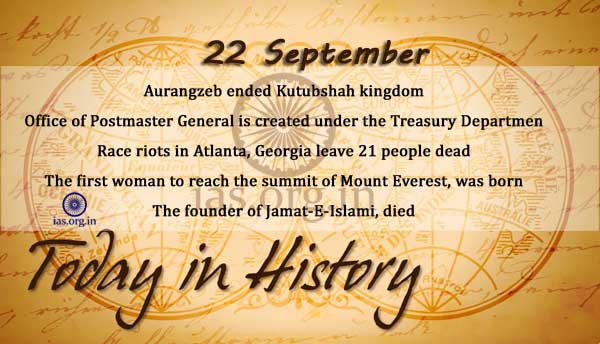 1422
The Sultan, losing his hold over the army and some members of his aristocracy, very wisely abdicated in favour of his brother Ahmad, who is famous in Deccan history as Ahmad Shah Wali.
1599
24 merchants gathered in London's Founder Hall under the auspices of Lord Mayor to start a new company with a share captial in India.
1687
Aurangzeb ended Kutubshah kingdom.
1789
Office of Postmaster General is created under the Treasury Department.
1906
Race riots in Atlanta, Georgia leave 21 people dead.
1915
Xavier University, the first African-American Catholic college, opens in New Orleans, Louisiana.
1931
Gandhi meets Charlie Chaplin in London.
1937
The last contingent of Indian freedom fighters was send to Andaman & Nicobar Islands.
1939
Junko Tabei, Japanese mountain climber; first woman to reach the summit of Mount Everest, was born.
1977
Maulana Abdul Ali Maududi, founder of Jamat-E-Islami, died.
1979
Israel conducts nuclear test at Indian Ocean.
1980
The Iran-Iraq War begins as Iraq invades Iran; lasting until August 1988, it was the longest conventional war of the 20th century.
1988
PM announces Government's decision to drop Defamation Bill.
1992
Indo-British Extradition Treaty signed in London;
1999
India asks Pakistan to prevent the reported attempt by the JKLF to cross the Line of Control (LOC) on October 4.
Also Read:
Today in History – 21 September
Today in History – 20 September
Today in History – 19 September