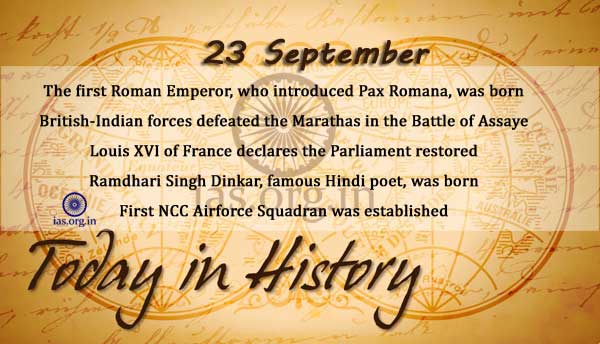 63 BC
Augustus Caesar, first Roman Emperor, who introduced Pax Romana, the era of peace, was born.
1553
The Sadians defeat the last of their enemies and establish themselves as rulers of Morocco.
1667
Slaves in Virginia are banned from obtaining their freedom by converting to Christianity.
1739
The Austrians sign the Treaty of Belgrade after having lost the city to the Turks.
1743
Sawai Jaising died.
1788
Louis XVI of France declares the Parliament restored.
1803
British-Indian forces defeated the Marathas in the Battle of Assaye.
1858
Grant Duf, historian who studied Maratha history, died.
1908
Ramdhari Singh Dinkar, famous Hindi poet, was born.
1945
The first American dies in Vietnam during the fall of Saigon to French forces.
1965
The Indian Army secured the Kashmir Valley and the only object left was to clean out the remnants of the Gibraltar Force. Under the guidance of United Nations, the cease-fire came into effect.
1974
First NCC Airforce Squadran (Women) was established at Vanasthali Vidyapeeth, Rajasthan.
1980
Indira Gandhi gains power to imprison without trial.
1990
World Bank clears Rs.1,200 crore aid for Sarovar Dam rejecting objections raised by environmental groups.
1992
Indian-designed pilotless target aircraft 'Lakshya' successfully tested.
1999
India rejects Pakistan's proposal for an international conference on arms control.
2002
The first public version of Mozilla Firefox browser released; originally called Phoenix 0.1 its name was changed due to trademark issues with Phoenix Technologies.
Also Read:
Today in History – 22 September
Today in History – 21 September
Today in History – 20 September