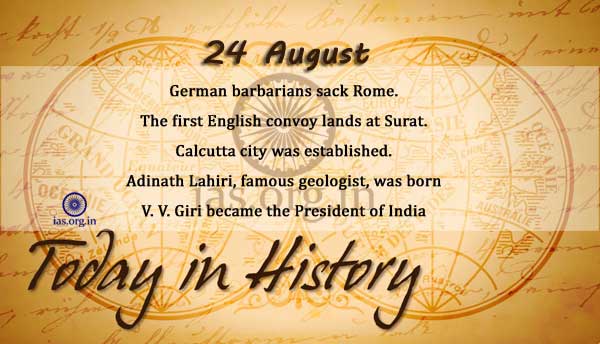 410
German barbarians sack Rome.
1600
East India Company's first ship 'HECTOR' reached at Surat Port.
1608
The first English convoy lands at Surat.
1689
Calcutta city was established.
1891
Thomas Edison files a patent for the motion picture camera.
1894
Congress passes the first graduated income tax law, which is declared unconstitutional the next year.
1916
Adinath Lahiri, famous geologist, was born.
1946
Viceroy Wavell broadcasts Plan.
1946
Pandit Jawaharlal Nehru was appointed head of India's interim government.
1952
Merger of Socialist Party and Krishak Mazdoor Praja Party announced.
1954
Congress outlaws the Communist Party in the United States.
1969
M.Hidayatullah retired from the post of acting President. He was the first acting President of India.
1969
Varahagiri Venkata Giri (1884-1980), became the fourth President of India.
2000
The Calcutta Municipal Corporation celebrated the 310th birth anniversary of the city. A web portal on Calcutta was also launched on this occasion.
Also Read: