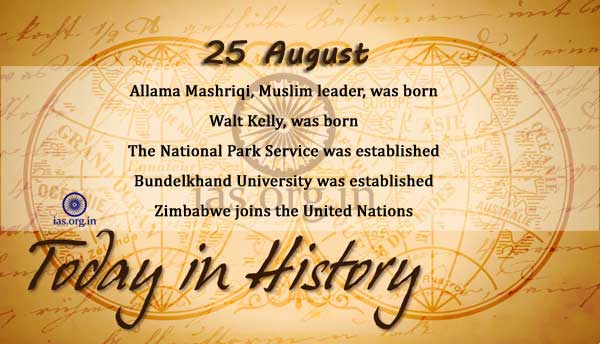 357
Julian Caesar defeats the Alamanni at Strasbourg in Gaul.
1875
"Captain" Matthew Webb becomes the first man to swim across the English Channel.
1888
Allama Mashriqi, Muslim leader, was born.
1913
Walt Kelly, cartoonist who created the comic strip "Pogo", was born.
1916
The National Park Service is established as part of the Department of the Interior.
1948
The House Un-American Activities Committee holds first-ever televised congressional hearing.
1948
'Jana Gana Mana' to be the provisional National Anthem till Constituent Assembly made a final decision.
1959
Jawaharlal Nehru, Prime Minister, declares in New Delhi that India will defend Bhutan and Sikkim if attacked by China.
1963
Allama Mashriqi, Muslim leader, passed away.
1975
Bundelkhand University was established in Uttar Pradesh.
1980
Zimbabwe joins the United Nations.
1991
The Airbus A340 makes its first flight.
1992
Mi-4 was re-equipped with the mighty Mi-35 Squadron and was renamed as 104-Helicopter Squadron.
1997
Cabinet approved the draft of the Foreign Exchange Management Act (FEMA) which was to replace the Foreign Exchange Regulation Act (FERA).
Also Read: