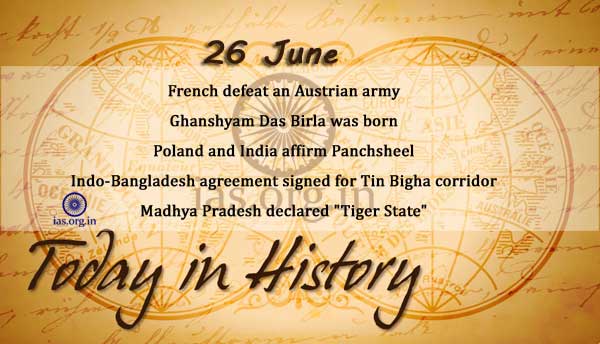 1243
The Seljuk Turkish army in Asia Minor is wiped out by the Mongols.
1794
The French defeat an Austrian army at the Battle of Fleurus.
1888
Ghanshyam Das Birla, great freedom fighter and social reformer, was born at Pilani.
1942
The Grumman F6F Hellcat fighter flies for the first time.
1954
Nehru, Chou En-lai pledge good-neighbor policy at New Delhi.
1955
Poland and India affirm Panchsheel.
1982
First Boeing 707 of Air India `Gaurishankar' was crashed at Sahar airport (Bombay).
1983
Five hundred killed or missing as monsoon floods hit the Indian state of Gujarat.
1992
The Tin Bigha corridor leased to Bangladesh as per the Indo-Bangladesh agreement.
1995
Madhya Pradesh declared "Tiger State" as it homes one sixth of the world's tiger pop.
1997
India declares its chemical weapon stockpiles and storage facilities as part of its obligations as signatory to the Chemical Weapons Convention.
Also Read: