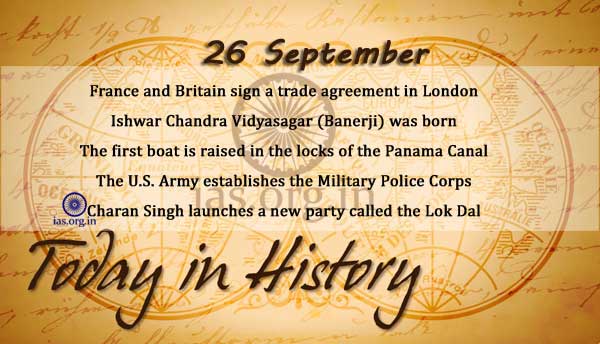 1777
The British army launches a major offensive, capturing Philadelphia.
1786
France and Britain sign a trade agreement in London.
1820
Ishwar Chandra Vidyasagar (Banerji), great Indian educationist, social reformer, litterateur, father of Bengali prose and who gave the Bengalees their first Primer in 1855, was born in the village of Birsingha in Midnapore district of Bengal.
1829
Scotland Yard, the official British criminal investigation organization, was formed.
1913
The first boat is raised in the locks of the Panama Canal.
1919
Rotary Club's first Indian meeting was held.
1923
Dev Anand, film producer, director and actor, was born.
1931
At Lancashire, Gandhi sees textile workers hurt by Indian boycott but says home spinning must go on.
1932
Gandhiji breaks fast on Indian government's acceptance of his demand regarding Harijans.
1941
The U.S. Army establishes the Military Police Corps.
1946
Gandhiji was interviewed with Wavell.
1975
Notification to pay equal payment to both men and women workers was promulgated.
1975
Constitution (39th Amendment) Bill 1975, placing election of the President, Vice President, Prime Minister and Speaker of the Lok Sabha beyond the scrutiny of the judiciary, approved by Parliament.
1979
Charan Singh launches a new party called the Lok Dal.
1985
P.T. Usha sets record for 100m (Women) in 11.39 seconds at Jakarta.
1992
Indian Airlines hike fare by 9 percent.
1996
CBI chargesheeted Rao in St. Kitts case.
1999
Atal Behari Vajpayee, Prime Minister, dispatched a team of experts to Karnataka and Tamil Nadu to assess the water storage position.
Also Read:
Today in History – 24 September
Today in History – 23 September
Today in History – 22 September