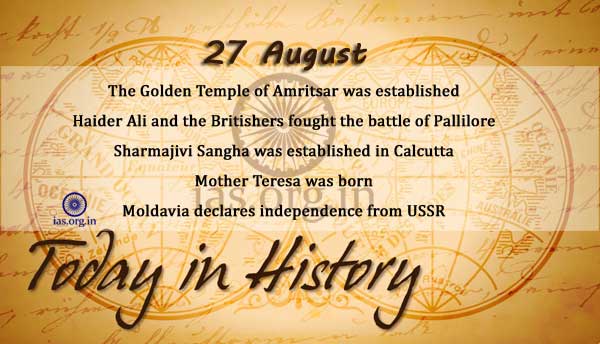 1604
Guru Granth Sahib was established in the Golden Temple of Amritsar.
1776
The Americans are defeated by the British at the Battle of Long Island, New York.
1781
Haider Ali and the Britishers fought the battle of Pallilore.
1813
The Allies defeat Napoleon at the Battle of Dresden.
1870
Sharmajivi Sangha was established in Calcutta by Sashipada Banerji.
1910
Mother Teresa, [Agnes Gonxha Bojaxhiu], nobel Prize awardee and social worker, was born in Skopje, Macedonia in Yugoslavia.
1912
Edgar Rice Burrough's Tarzan of the Apes first appears in a magazine.
1916
Italy declares war on Germany.
1952
Vigyan Mandir inaugurated at Nazafgarh Road, New Delhi.
1958
Metric system of weights and measures introduced.
1976
Major-General (Kumari) Gertude Ali Ram, the first women General in Indian Army, was appointed as the first Director of Military Nursing Services at the Army Headquarters.
1979
Lord Mountbatten is killed by an Irish terrorist bomb in his sail boat in Sligo, Ireland.
1991
Moldavia declares independence from USSR.
1993
The Rainbow Bridge, a 1,870-foot suspension bridge over Tokyo Bay, completed.
1998
India's cricket sensation Sachin Tendulkar has an audience with the legendary Sir Don Bradman at the latter's 90th birthday celebrations in Adelaide.
2012
First interplanetary human voice recording is broadcast from the Mars Rover Curiosity.
Also Read: