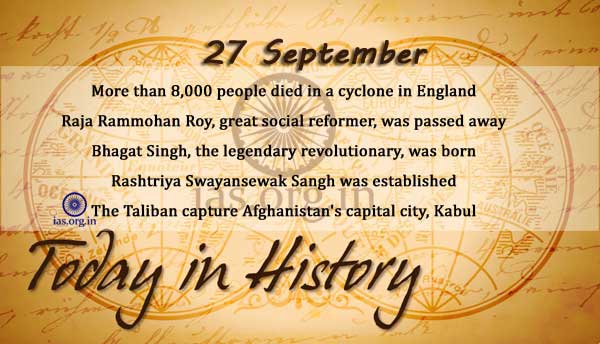 1703
More than 8,000 people died in a cyclone in England.
1760
Mir Zafar was deposed and his son-in-law Mir Kasim became the Nawab of Bengal. He ruled till July 7, 1763.
1791
Jews in France are granted French citizenship.
1833
Raja Rammohan Roy, great social reformer, lawyer and politician passed away at Stapleton Grove in England.
1873
Vithalbhai Patel, great freedom fighter, social worker, nationalist leader, politician and President of the Central Assembly, was born at Karmasad, Gujarat.
1907
Bhagat Singh, the legendary revolutionary, was born at Banga in West Punjab, Layalpur now in Pakistan.
1918
President Woodrow Wilson opens his fourth Liberty Loan campaign to support men and machines for World War I.
1925
Rashtriya Swayansewak Sangh was established.
1950
Mihir Sen became the first Indian to swim across the British Channel.
1989
The second test launching of India's surface-to-surface missile, 'Prithvi', from Sri Harikota was successful.
1990
Kabita Garari sets record for 10 Km W (Women) in 48.10 at Beijing Asian Games.
1993
Daily newspaper ""Samna"" started its publication at Sambhajina
1995
Cellular phone service operates for the first time in Delhi.
1996
The Taliban capture Afghanistan's capital city, Kabul.
2003
European Space Agency launches SMART-1 satellite to orbit the moon.
Also Read:
Today in History – 26 September
Today in History – 24 September
Today in History – 23 September