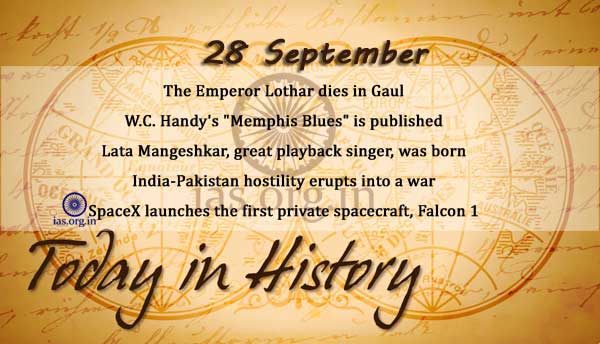 855
The Emperor Lothar dies in Gaul, and his kingdom is divided between his three sons.
1238
James of Aragon retakes Valencia, Spain, from the Arabs.
1827
A few mountain battery trains flourished and kept the Indian component alive as part of the Royal artillery. Recently, it has been established that 8 Company Bombay Artillery survived axing and is now 5 (Bombay) Mountain Battery. This day is now celebrated as the Raising Day of the Regiment of Artillery.
1837
Bahadur Shah-II ascended the throne and became the emperor of Delhi at the age of 62 following the death of his father Akbar Shah-II.
1912
W.C. Handy's "Memphis Blues" is published.
1924
In penance for riots, Gandhi, on hunger strike in Delhi, proclaimed he would break his fast only at death.
1929
Lata Mangeshkar, great playback singer, was born.
1940
Pundit Sunder Lal Sharma, freedom fighter and social reformer, passed away. He was also known as ""The Chhattisgarh Gandhi".
1958
France ratifies a new constitution.
1965
India-Pakistan hostility erupts into a war
1985
The first Indian Army expedition, sailing around the world in a small 37 feet fibre glass yacht named ""Trishna"", sailed off from Bombay.
2008
SpaceX launches the first private spacecraft, Falcon 1.
Also Read:
Today in History -27 September
Today in History – 26 September
Today in History – 24 September