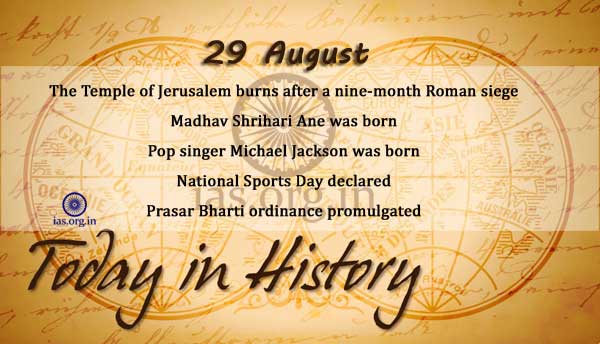 70
The Temple of Jerusalem burns after a nine-month Roman siege.
1612
Battle at Surat in India; English fleet beats Portuguese.
1793
Slavery is abolished in Santo Domingo.
1880
Madhav Shrihari Ane, greatest Freedom fighter, was born.
1931
Gandhi arrives in London for second Round Table Conference on India.
1947
Dr. Babasaheb Ambedkar became the President of Constitution Council.
1949
USSR explodes its first atomic bomb, "First Lightning."
1952
In the largest bombing raid of the Korean War, 1,403 planes of the Far East Air Force bomb Pyongyang, North Korea.
1958
Michael Jackson, pop singer, entertainer, was born.
1959
India sends troops to Tibet border to block the Chinese.
1960
US U-2 spy plane spots SAM (surface-to-air) missile launch pads in Cuba.
1974
Lokdal Party established under the presidency of Chaudhary Charansingh.
1984
Indian Airlines Boeing 737 with 68 passengers and a crew of 6 hijacked in Lahore.
1991
Second operational Indian Remote Sensing satellite (IRS-1B) launched by a Russian launch vehicle, Vostok. It is still in service.
1992
Eco-mark introduced in Indian market to distinguish eco-friendly products, .
1995
NATO launches Operation Deliberate Force against Bosnian Serb forces.
1995
National Sports Day declared.
1998
Prasar Bharti ordinance promulgated.
1998
Sachin Tendulkar receives the Rajiv Gandhi Khel Ratna award and Joginder Singh Saini receives the Dronacharya award, while several other leading sporstmen receive Arjuna award from President K.R. Narayanan in Delhi.
Also Read: