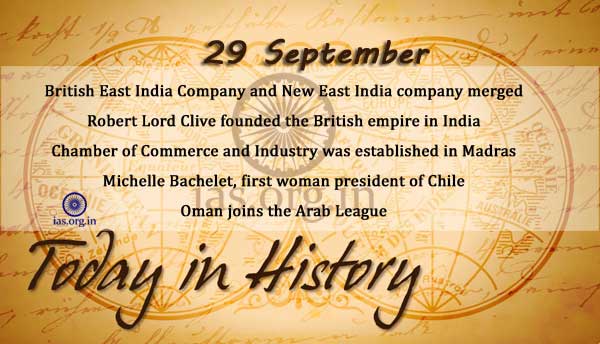 1708
British East India Company and New East India company merged.
1755
Robert Lord Clive founded the British empire in India.
1789
Congress votes to create a U.S. army.
1836
Chamber of Commerce and Industry was established in Madras.
1850
Mormon leader Brigham Young is named the first governor of the Utah Territory.
1907
Labour MP James Keir Hardie accuses UK of running India 'like the Czar runs Russia'.
1914
German cruiser Emden shells Madras.
1914
Japanese vessel 'Kamagata Maru' reached Baj Baj near Calcutta from Vancouver carrying Indian revolutionaries.
1932
A five-day work week is established for General Motors workers.
1939
Germany and the Soviet Union reach an agreement on the division of Poland.
1942
The British police shot Matangini Hazra, a 72-year old woman of Tamluk town in Midnapur district, when she was leading the flag at Tamluk in August movement procession.
1951
Michelle Bachelet, first woman president of Chile (2006-10).
1959
Arati Saha successfully swam the English Channel. She was the first Asian lady to achieve the feat.
1962
Canada launches its first satellite, Alouette 1.
1970
Union Carbide India Ltd in Bombay was commissioned Reclamation Plant Sewage Water of India for commercial use.
1971
Oman joins the Arab League.
1977
India and Bangladesh signed settlement for distributing Ganga river water.
1979
John Paul II becomes the first pope ever to visit Ireland.
1981
Delhi-Srinagar Indian Airlines Boeing 737 flight was diverted to Lahore, Pakistan by five Khalistan activists of the Dal Khalsa International. On board there were 117 passengers out of which 66 were freed on arrival in Lahore.
1988
Nobel Peace Prize for U.N. Peace-Keeping Forces.
1990
The YF-22, later named F-22 Raptor, flies for the first time.
1991
Ustad Yunus Hussain Khan, famous singer of 'Agra Gharana', passed away.
1993
National Human Rights Commission set up.
1994
Cable Television Regulation Ordinance issued.
1998
ISRO successfully launches its largest sounding rocket, Rohini (RH-560 mk, 11 total payload, 127 kg).
Also Read:
Today in History – 28 September
Today in History – 27 September
Today in History – 26 September