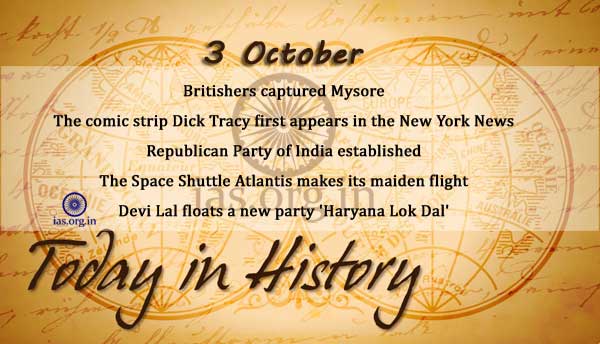 1831
Britishers captured Mysore.
1862
At the Battle of Corinth, in Mississippi, a Union army defeats the Confederates.
1880
Sakuntal Sangeet held in Anandodbhav Auditorium in Pune. Annasaheb Kirloskar presented the first musical play in Marathi.
1906
The first conference on wireless telegraphy in Berlin adopts SOS as warning signal.
1931
The comic strip Dick Tracy first appears in the New York News.
1950
India protests U.N. troops' crossing of 38th parallel in New York.
1957
Republican Party of India established.
1978
Dr. Subhas Mukhopadhyay claimed the credit of India's first and the birth of world's second test-tube baby Durga Agrawal, who was born in Belle Vue Nursing Home in Calcutta.
1984
India's longest distance train Himsagar Express (from Jammu Tavi to Kanya Kumari) was first flagged.
1985
The Space Shuttle Atlantis makes its maiden flight.
1985
Morocco breaks diplomatic relations with India after New Delhi announced its recognition of the Saharwi Arab Democratic Republic.
1988
Lebanese kidnappers release Mithileshwar Singh after 30 months of being held captive.
1989
Art Shell becomes the first African American to coach a professional football team, the Los Angeles Raiders.
1990
After 40 years of division, East and West Germany are reunited as one nation.
1992
Geet Sethi beats holder Mike Russel of Britain (2529-718) to become the first Indian to win the World Professional Billiards championship in Bombay.
1997
Devi Lal floats a new party 'Haryana Lok Dal'.
1999
India finished with seven silver and four bronze medals in the Asian Junior Athletic Championship in Singapore.
2000
India and Russia sign a declaration on strategic partnership.
Also Read:
Today in History – 30 September
Today in History – 29 September