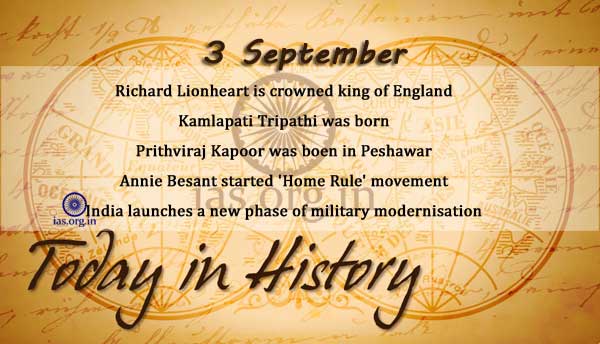 1189
After the death of Henry II, Richard Lionheart is crowned king of England.
1260
Mamelukes under Sultan Qutuz defeat Mongols and Crusaders at Ain Jalut.
1767
Colonel Smith was defeated in the battle of Changama that took place between the combined forces of Nizam and Hyder Ali and the British army. This was the first war of Mysore.
1905
Kamlapati Tripathi, leader of Indian National Congess, was born.
1906
Prithviraj Kapoor, veteran film actor, was born in Peshawar. His first film was 'Challenge' (1929). He is the founder of Prithvi Theatre in Bombay.
1914
The French capital is moved from Paris to Bordeaux as the Battle of the Marne begins.
1916
The German Somme front is broken by an Allied offensive.
1916
Annie Besant started 'Home Rule' movement.
1931
Dr. Chandreshwarprasad Rachamohan Thakur was born in Dubaha, Distt. Muzaffarpur (Bihar).
1992
Delhi High Court verdict on Bofors challenged in the Supreme Court.
1995
Ram Jethmalani (lawyer and MP) launches a new party, Bharatiya Lok Panchayat, to rid the country of its evils.
1997
Anjan (Lalji Pandey), well known lyricist and noted poet, died.
1999
India launches a new phase of military modernisation after the Kargil conflict.
Also Read:
Today in History – 2 September
Today in History – 1 September