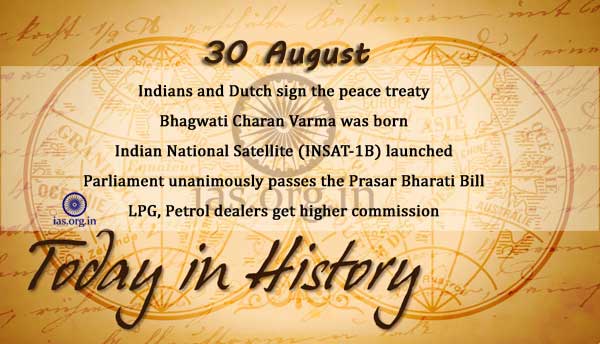 1569
Salim Mirza Jahangir, fourth Mughal Emperor and son of Akbar, was born at Fetehpur Sikri. (30 or 31).
1617
Rosa de Lima of Peru becomes the first American saint to be canonized.
1645
Indians and Dutch sign the peace treaty.
1813
Creek Indians massacre over 500 whites at Fort Mims, Alabama.
1860
The first British tramway is inaugurated at Birkenhead by an American, George Francis Train.
1903
Bhagwati Charan Varma was born.
1928
Jawaharlal Nehru lays his plans for a free India and becomes president of Congress Party in 1929.
1931
Carrie Saxon Perry, 1st black mayor of a major US city (Hartford CT), was born.
1983
Indian National Satellite (INSAT-1B) launched.
1989
Anti-government riots leave at least 11 dead.
1990
Parliament unanimously passes the Prasar Bharati Bill.
1992
The first Indian-built ALH (Advanced Light Helicopter) successfully flown in Bangalore.
1993
LPG, Petrol dealers get higher commission.
Also Read: