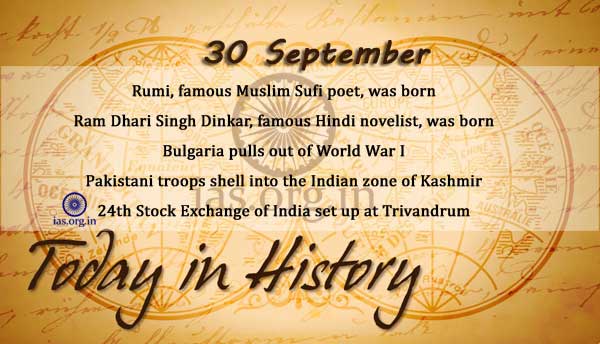 1207
Rumi, famous Muslim Sufi poet, was born.
1687
Aurangzeb acquired the famous Golconda fort near Hyderabad from the Qutub Shahi Sultan Tana Shah due to the treachery of his General Panni.
1791
Mozart's opera The Magic Flute is performed for the first time in Vienna
1908
Ram Dhari Singh Dinkar, famous Hindi novelist, was born.
1911
Italy declares war on Turkey over control of Tripoli.
1918
Bulgaria pulls out of World War I.
1949
The Berlin Airlift is officially halted after 277,264 flights.
1954
The first atomic-powered submarine, the Nautilus, was commissioned in Groton, Connecticut.
1954
NATO nations agree to arm and admit West Germany.
1963
The USSR openly louded Indian view on Kashmir issue. This was against Pakistan's motives.
1972
Pakistani troops shell into the Indian zone of Kashmir.
1981
Pakistan Commando soldiers release 66 hostages in Lahore from five Khalistan hijackers and activists of the Dal Khalsa International.
1989
INS Shalki, India's first indigenously built submarine, launched in Bombay.
1992
Laurie Baker wins Rs. 25 lakh UN World Habitat award.
1996
Centre gives its consent to Tamil Nadu government's decision to rename Madras as Chennai.
1997
24th Stock Exchange of India set up at Trivandrum.
1999
India successfully test-fired its multi-target surface-to-air missile 'Akash'.
Also Read:
Today in History -29 September
Today in History – 28 September
Today in History -27 September