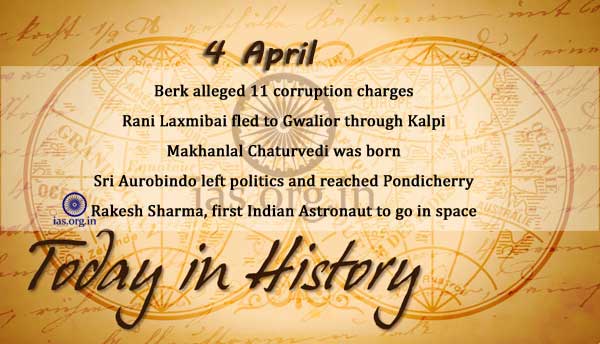 1786
In British Parliament, Berk alleged 11 corruption charges against Indian Governor General Warren Hastings.
1858
Rani Laxmibai fled to Gwalior through Kalpi after giving a solid blow to British troops.
1889
Makhanlal Chaturvedi, famous Hindi poet, writer and Hindi litterateur, was born in Babai village, Madhya Pradesh.
1898
Hiralal Sen and his brother Motilal Sen purchased a Bioscope Cinematographic Machine from London. The first show of imported films was arranged by them at Classic Theatre on April 4, after which they formed 'The Royal Bioscope Co.,' controlled by H. L. Sen & Bros., 85/2, Maszid Badi Street, Calcutta. The Bioscope Company started touring the provinces of Bengal, Orissa and Bihar.
1910
Sri Aurobindo left politics and reached Pondicherry where he made the seat of Yoga.
1926
Martial law was declared in Calcutta as rioting continues.
1938
A. M. Chakrabarty was born in Sainthia at West Bengal. He found that under the optimum conditions of time, temperature and nutrients the Hydrocarbon-eating "qualities" of four diffrent strains of bacteria could be transferred into one. He also showed that this super-strain of bacteria reproduces itself.
1942
Japanese Navy destroyed 3 British battleship to sink in the Bay of Bengal during the Second World War.
1947
San Francisco's Henry Grady had been chosen the first U.S. ambassador to India.
1951
West Germany established full diplomatic relations with India.
1984
Squadron Leader Rakesh Sharma was the first Indian Astronaut to go in space from Baikanaur aboard Soviet Space Craft 'Soyuz 11' and revolved around the earth.
1990
Hindi film 'Bagh Bahadur' received the best feature film award of 1989.
1996
Supreme Court rules that political parties without audited accounts cannot take advantage of an election law that exempts tax expenditure on candidates.
1997
World Bank Atlas for 1997 put India as world's fifth largest economy in terms of purchasing power parity estimated around $1318 trillion.
2000
A. B. Vajpayee, Prime Minister, inaugurates Samvidhan.com, a website about the Constitution. The site is a part of the Hindi portal, Webdunia.com.
Related Articles: