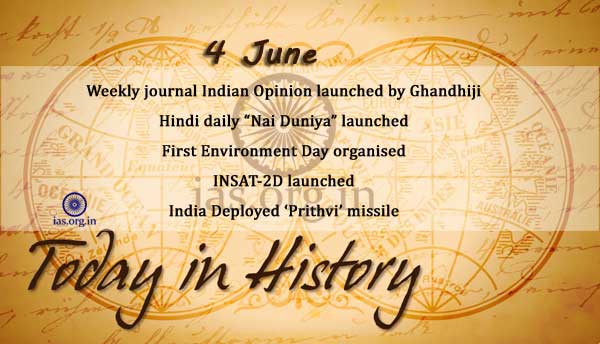 1903
Gandhiji launched the weekly journal "Indian Opinion" organised at Phoenix farm near Dur.
1911
Gold was discovered in Alaska's Indian Creek.
1926
Dalai Lama introduced a tax on ears for Tibetans to equip the army. Those with only one ear would pay half the tax.
1941
National Seva Dal was established.
1947
Hindi daily 'Nai Duniya' started publication at Indore, Madhya Pradesh.
1953
University of Cambridge conferred honorary Doctorate of Laws on J. L. Nehru.
1955
Ministry of Iron & Steel inaugurated.
1958
The three-men Indian Mountaineering group successfully climbed the high Peak in the Garhwal Hills Range.
1972
First Environment Day.
1987
A Swedish Government inquiry found that Bofors had paid commission to middlemen for concluding Arms Purchase Agreement with India.
1994
Army successfully test-fires the short range surface-to-surface missile, 'Prithvi'.
1997
Fourth Indian Remote Sensing Satellite (IRS-1D), carring advanced remote sensing cameras launched by India's Polar Satellite Launch Vehicle (PSLV-1D), in service.
1997
Indian National Satellite (INSAT-2D), fourth satellite in INSAT-2 series, launched.
1997
Defence Ministry denied Washington Post's report that India had deployed Prithvi missile on Punjab border with Pakistan.
Also Read: