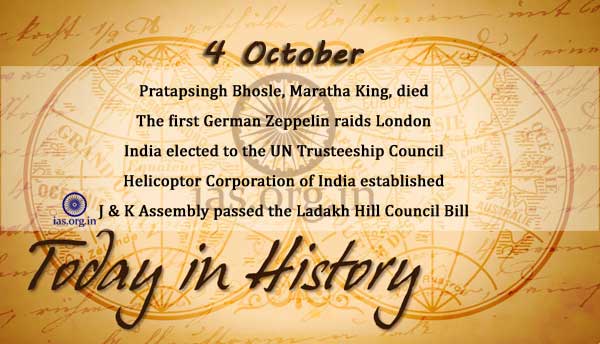 1795
General Napoleon Bonaparte leads the rout of counterrevolutionaries in the streets of Paris, beginning his rise to power.
1847
Pratapsingh Bhosle, Maratha King, died.
1861
The Union ship USS South Carolina captures two Confederate blockade runners outside of New Orleans, La.
1907
Riots in Calcutta.
1914
The first German Zeppelin raids London.
1943
US captures the Solomon Islands in the Pacific.
1953
India elected to the UN Trusteeship Council.
1977
Atal Bihari Vajpayee, External Affairs Minister of India, addressed the UNO General Assembly in Hindi language.
1986
Helicoptor Corporation of India established.
1992
Mozambique's 16-year civil war ends with the Rome General Peace Accords.
1993
PM surveys the quake-hit villages and sanctioned Rs. 50 crore.
1997
J & K Assembly passed the Ladakh Hill Council Bill.
2000
Kashmir has been the cause of tensions between India and Pakistan and foreign interference should be stopped," said Russian President Vladimir Putin at the joint session of both the Houses of Parliament.
Also Read:
Today in History – 30 September