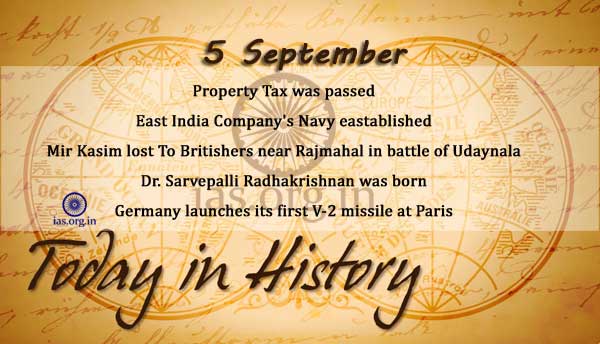 1457
Property Tax was passed.
1612
East India Company's Navy eastablished.
1659
Queen Saibai, wife of Chhatrapati Shivaji Maharaj, died.
1793
Mir Kasim lost To Britishers near Rajmahal in battle of Udaynala.
1846
Sir Charles Metkaf, Governor General of East India Company, died.
1859
Harriot E. Wilson's Our Nig, is published, the first U.S. novel by an African American woman.
1867
The first shipment of cattle leaves Abilene, Kansas, on a Union Pacific train headed to Chicago.
1888
Dr. Sarvepalli Radhakrishnan (1888-1975), panentheist, great renaissance philosopher, eminent writer, free India's first vice-president and second president, was born at Tiruttani near Madras.
1918
Ratanji Jamshetji Tata, famous Indian industrialist and social reformer, died.
1944
Germany launches its first V-2 missile at Paris, France.
1957
Wealth Tax Bill passed in Rajya Sabha.
1962
Dr. Radhakrishnan's birthday declared as Teachers Day.
1977
Voyager 1 space probe launched.
1979
Earl of Mountbatten's funeral held in Burma.
1987
Shanbagh, Vandana Rao, Shiny and Usha sets record in the women's category for 4x400m race in 3.31.55 seconds at Rome .
1988
The country goes without newspapers on this day as the entire newspaper industry had protested against the Defamation Bill.
1990
Rajya Sabha approves the Prasar Bharati Bill rejecting by voice vote three motions moved by the Congress(I) to refer the Bill to a joint select committee.
1998
Trishul and Akash test fired from Chandipore.
Also Read:
Today in History – 3 September
Today in History – 2 September
Today in History – 1 September