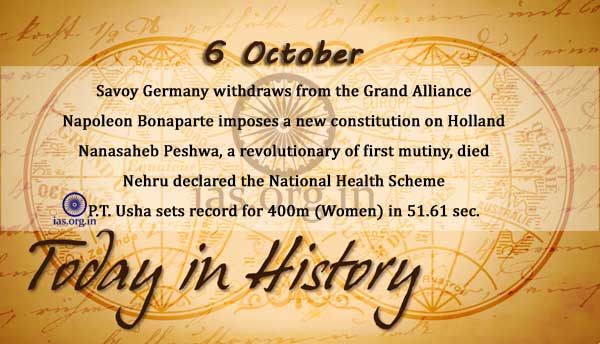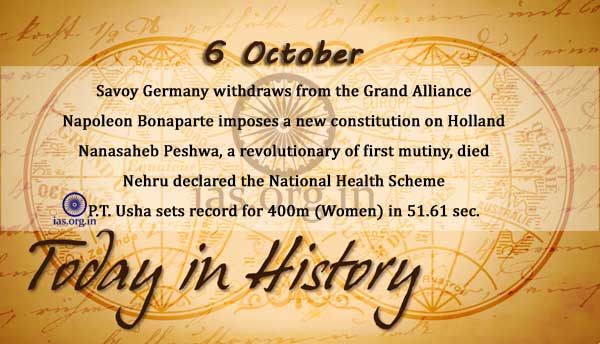 1696
Savoy Germany withdraws from the Grand Alliance.
1779
Elphinston, historian and administrator of Mumbai province, was born.
1801
Napoleon Bonaparte imposes a new constitution on Holland.
1847
Charlotte Bronte's novel Jane Eyre is published in London.
1858
Nanasaheb Peshwa, a revolutionary of first mutiny, died.
1862
Indian Penal Code was notified. However, it was implemented from 1st January 1862.
1927
The first independent film processing laboratory, Atmanand Laboratory, was set up by Narayanrao alias Dhanjibhai K. Desai at Bombay.
1927
First Indian Cinematograph Enquiry Committee, under the chairmanship of Diwan Bahadur T. Rangachariar, was appointed by the Government.
1949
Jawaharlal Nehru laid the foundation stone of National Defence Academy in Kharakvasla near Pune.
1954
Nehru declared the National Health Scheme for the entire country.
1985
P.T. Usha sets record for 400m (Women) in 51.61 seconds at Canberra .
1987
Fiji becomes a republic independent of the British Commonwealth.
1997
International Commodity Exchange Division of the India Pepper and Spice Trade Association in Kochi opened.
1997
I. K. Gujral, PM, begins visit to South Africa, which was the first ever by an Indian Prime Minister.
Also Read: