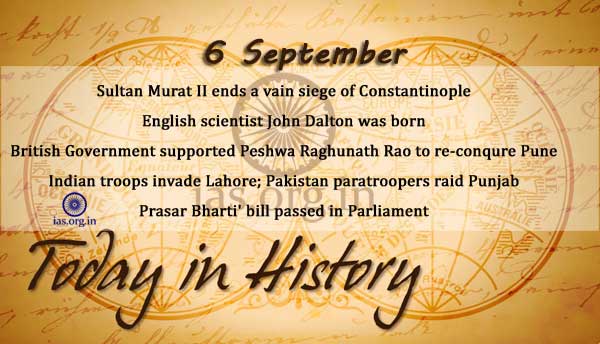 1422
Sultan Murat II ends a vain siege of Constantinople.
1657
Shahjahan fell ill. His four sons Dara Shikoh, Suja, Aurangzeb and Murad advanced towards Delhi to capture the throne.
1674
Faced with a critical situation, De la Haye had to capitulate and surrender St Thome to the Dutch who allowed the Sultan of Golconda to re-occupy it.
1766
John Dalton, English scientist who developed the atomic theory of matter, was born.
1774
British Government supported Peshwa Raghunath Rao to re-conqure Pune.
1870
The last British troops to serve in Austria are withdrawn.
1889
Sarat Chandra Bose, freedom fighter, journalist and leader, was born.
1903
Russia increases import duties on Indian and Ceylon tea in retaliation for British import policies in Moscow.
1907
The luxury liner Lusitania leaves London for New York on her maiden voyage.
1947
Indian government creates a new ministry of relief and rehabilitation of refugees.
1965
Indian troops invade Lahore; Pakistan paratroopers raid Punjab.
1965
Full scale warfare broke out all along the international border between West Pakistan and India.
1990
Prasar Bharti' bill passed in Parliament.
2000
Telecom workers launch a nation-wide strike in protest against inadequate safeguards prior to the corporatisation of the department from October 1.
Also Read:
Today in History – 5 September
Today in History – 3 September
Today in History – 2 September