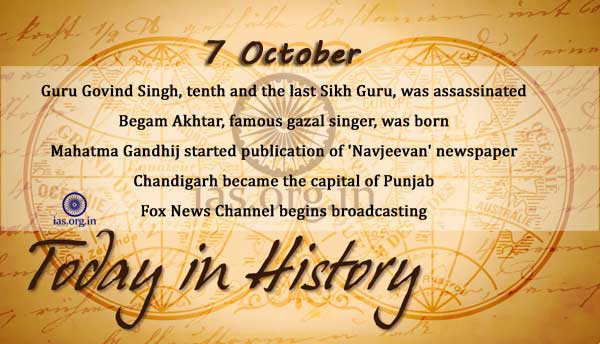 1586
The Mughal army entered Srinagar where 'Khutbah' was being recited in the name of the emperor.
1708
Guru Govind Singh, tenth and the last Sikh Guru, was assassinated.
1737
40 feet waves sink 20,000 small craft & kill 300,000 (Bengal, India).
1914
Begam Akhtar, famous gazal singer, was born.
1919
Mahatma Gandhij started publication of 'Navjeevan' newspaper.
1949
East Germany, the German Democratic Republic, is formed.
1950
Mother Teresa, started Missionaries of Charity, in Calcutta.
1952
Chandigarh became the capital of Punjab.
1993
The Supreme Court rejected private management's plea for 50\% quota in private professional colleges.
1996
Fox News Channel begins broadcasting.
1997
Central government women employees to get 135 days' maternity leave and men to get 15 days' paternity leave.
2000
WWF-India bags the first Rajiv Gandhi Wildlife Conservation Award.
Also Read: