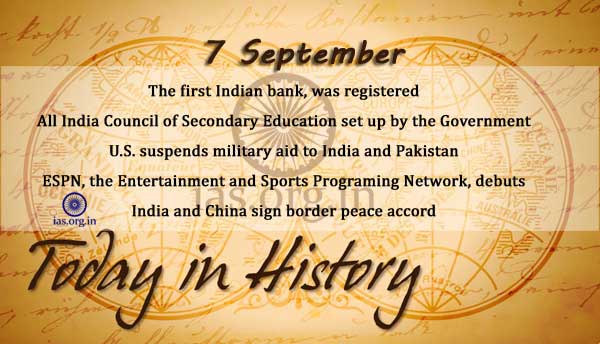 1571
At the Battle of Lepanto in the Mediterranean Sea, the Christian galley fleet destroys the Turkish galley fleet.
1630
The town of Trimountaine in Massachusetts is renamed Boston. It became the state capital.
1701
England, Austria, and the Netherlands form an Alliance against France.
1887
Mahamahopadhyaya Pandit Gopinath Kaviraj, editor and master, was born at Dhamrai in Dhaka now in Bangladesh.
1892
The first heavyweight-title boxing match fought with gloves under Marquis of Queensbury rules ends when James J. Corbett knocks out John L. Sullivan in the 21st round.
1906
Bank of India, the first Indian bank, was registered.
1947
Gandhiji leaves Calcutta for Delhi; commences daily visits to riot-affected areas.
1953
Nikita Krushchev elected first secretary of the Communist Party of the Soviet Union.
1955
All India Council of Secondary Education set up by the Government.
1965
U.S. suspends military aid to India and Pakistan.
1979
ESPN, the Entertainment and Sports Programing Network, debuts.
1993
India and China sign border peace accord.
1999
India rejects Pakistan demand for a East Timor type of referendum in Kashmir.
1999
Haider Noorani, BJP candidate for the Anantang Lok Sabha seat, killed in bomb blast.
Also Read:
Today in History – 6 September
Today in History – 5 September
Today in History – 3 September