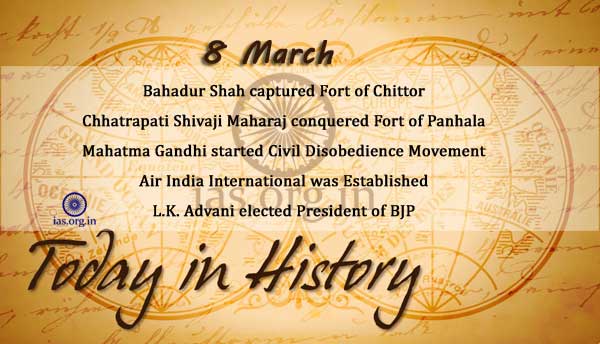 1535
Bahadur Shah captured the fort of Chittor and then marched against the Mughal emperor.
1673
Chhatrapati Shivaji Maharaj conquered the fort of Panhala.
1864
Hari Narayan Apte, a well known Marathi writer who popularised social and historical themes in his novels, was born. He presided over the 8th Marathi Sahitya Sammelen in 1912.
1930
Mahatma Gandhi started civil disobedience movement continues in India.
1948
Air India International was established for overseas services.
1986
L.K. Advani elected President of BJP.
1998
Indian Airlines operates two international flights with all women crew.
Related Articles: