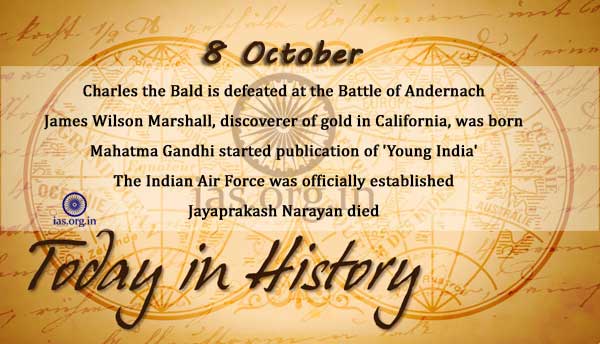 876
Charles the Bald is defeated at the Battle of Andernach.
1810
James Wilson Marshall, discoverer of gold in California, was born.
1880
Ernest F E Douwes Dekker, Dutch founder of National India Party, was born.
1900
Maximilian Harden is sentenced to six months in prison for publishing an article critical of the German Kaiser.
1912
First Balkan War begins as Montenegro declares war against the Ottoman Empire.
1919
Mahatma Gandhi started publication of 'Young India'.
1921
Indian nationalists call a general strike on Prince of Wales's arrival in Bombay.
1922
Lilian Gatlin becomes the first woman pilot to fly across the United States.
1927
Raaj Kumar, famous Hindi film actor, was born.
1932
The Indian Air Force was officially established, being the date of its formal constitution as India's first Air Force.
1967
Guerrilla Che Guevara captured in Bolivia.
1978
Jayaprakash Narayan died.
1998
16 policemen are killed when their vehicle is blown up by PWG naxalites on the Basaguda-Jagargunda road in Madhya Pradesh's Bastar division.
2001
US President George W. Bush establishes the Office of Homeland Security.
Also Read: