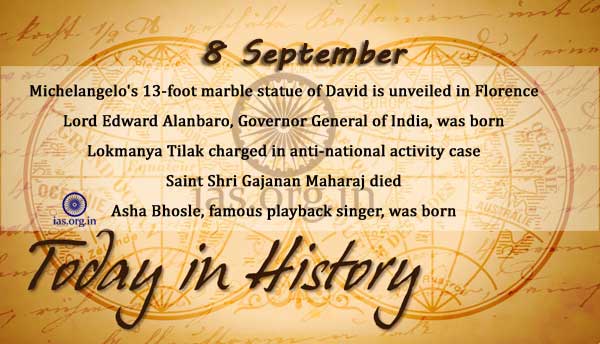 1504
Michelangelo's 13-foot marble statue of David is unveiled in Florence, Italy.
1565
Spanish explorers found St. Augustine, Florida, the first permanent European settlement in what is now the United States
1644
The Dutch colony of New Amsterdam surrenders to the British fleet that sails into its harbor. Five years later, the British change the name to New York.
1790
Lord Edward Alanbaro, Governor General of India (1842 to 1844), was born.
1845
A French column surrenders at Sidi Brahim in the Algerian War.
1897
Lokmanya Tilak charged in anti-national activity case.
1910
Saint Shri Gajanan Maharaj died.
1921
Margaret Gorman of Washington, D.C., is named the first Miss America.
1925
Germany is admitted into the League of Nations.
1935
Asha Bhosle, famous playback singer, was born.
1947
There was little time to celebrate independence in India and Pakistan as large parts of the dominions were paralyzed with fear. Mobs ran wild as Muslims and Hindus battled to death and turned streets into rivers of blood.
1951
The office of Controller of Military Accounts (Pensions) was re-designated as CDA(P), Allahabad.
1952
The Copyright bill was signed during the first world convention by 35 nations including India at Geneva.
1960
President Dwight Eisenhower dedicates NASA's Marshall Space Flight Center in Huntsville, Alabama.
1960
Feroz Gandhi, a prominent member of the Lok Sabha,died in New Delhi.
1972
Vijay Singh Chauhan sets record for decathlon by 7378/7306 points at Munich.
1990
Mother Teresa re-elected head of Missionaries of Charity.
1997
English chosen as the official language of Dravidian University which was set up at Kuppam (Andhra Pradesh) jointly by the southern states.
Also Read:
Today in History – 7 September
Today in History – 6 September
Today in History – 5 September