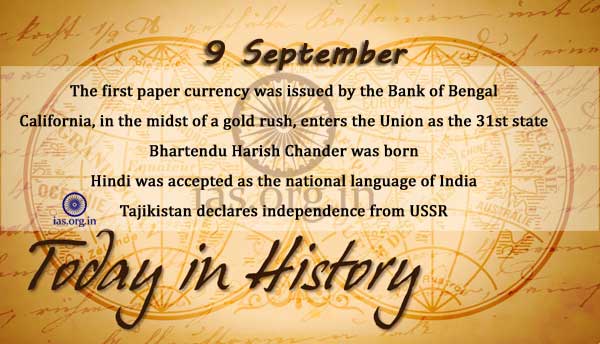 1513
King James IV of Scotland is defeated and killed by English at Flodden.
1786
George Washington calls for the abolition of slavery.
1812
The first paper currency was issued by the Bank of Bengal. The notes of this bank were later printed by Perkins, Heath & Co. in England. They can be distinguished into at least 10 different types.
1850
California, in the midst of a gold rush, enters the Union as the 31st state.
1850
Bhartendu Harish Chander, father of modern Hindi literature, poet and dramatist, was born.
1898
Explosive Department of India was established at Nagpur.
1911
An airmail route opens between London and Windsor.
1915
A German zeppelin bombs London for the first time, causing little damage.
1920
Anglo Oriental College of Aligargh became Aligarh Muslim University. It was the first university to use the regional language.
1923
First magazine 'Kiran' was published by Ravikiran Mandal.
1926
The Radio Corporation of America creates the National Broadcasting Co.
1944
Mahatma Gandhi conducted several talks between 9th September to 27the September with Mohammed Ali Jinnah regarding Pakistan.
1948
Kim Il-sung declares the establishment of the Democratic People's Republic of Korea.
1949
Hindi was accepted as the national language of India.
1965
US Department of Housing and Urban Development established.
1991
Tajikistan declares independence from USSR.
1993
The Palestine Liberation Organization (PLO) officially recognizes Israel as a legitimate state.
1999
Mr. V. Sudarshan, Foreign Editor of The Pioneer till recently gets the Appan Menon Award.
Also Read:
Today in History – 8 September
Today in History – 7 September
Today in History – 6 September