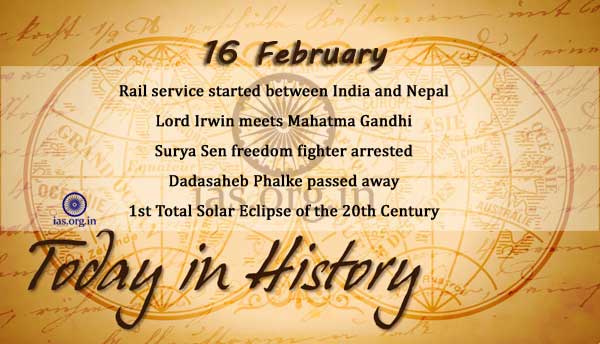 1927
Rail service started between India and Nepal.
1931
Viceroy Lord Irwin meets Mahatma Gandhi for the first time.
1933
Surya Sen Masterda, revolutionary freedom fighter, who attacked the Armoury of Chittagong with 62 men of the Indian Republican Army and was underground on Jalalabad Hills, was arrested.
1944
Dadasaheb Phalke passed away in Nasik at the age of 74. He is remembered as the 'Father of Indian Cinema'. He produced India's first feature Film, 'Raja Harishchandra'. He was Director, Producer, Writer, Editor & Laboratorian. Dada Saheb Phalke Award issued by Government of India is given in his memory.
He was born on 30 April 1870 and breathed his last on 16 February 1944 at the age of 74 years. In his career of 19 years, he made 95 full-length movies and 26 short movies.
1980
The first visible Total Solar Eclipse of the 20th Century was seen. This succeeded the total solar eclipse after 22 June 1898.
Recent Articles of Today in History
Today in History – 15 February
Today in History – 14 February
Today in History – 12 February
Today in History – 11 February
Today in History – 10 February