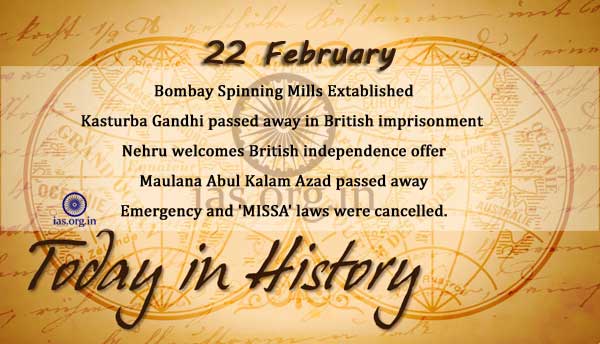 1845
Serampore of Hooghly district and Balasore cities from Dutch purchased East Indian Company.
1854
Kawasji Nanabhai Dawar started the first Cloth Mill namely 'Bombay Spinning Mills'.
1873
Sir Muhammad Ekbal, writer of song 'Sare Jahanse Achha', was born.
1944
Kasturba Gandhi passed away in British imprisonment in Aga Khan Palace at Pune.
Also Read: Brief biography of Mahatma Gandhi – A Journey from Mohandas to Mahatma
1947
Nehru welcomes British independence offer, invites Muslims to join at New Delhi.
1958
Maulana Abul Kalam Azad passed away in New Delhi, India. He was a great leader, great orator, revolutionary and fighter for national freedom. Some of his works which are the masterpieces of the Urdu language are ""Ghubari-Khatir"" and Tadhkirah"". He was Minister of Education in the first Indian Government.
1977
Emergency and 'MISSA' laws were cancelled.
1978
Judge Yeshwant Vishnu Chandrachud became the Chief Justice of India. He held this office till 11/07/1985. He was the longest-serving Chief Justice in India's history at 7 years and 4 months.
Also Read: Meet IAS Topper Vandana Rao, Rank 4 of 2015