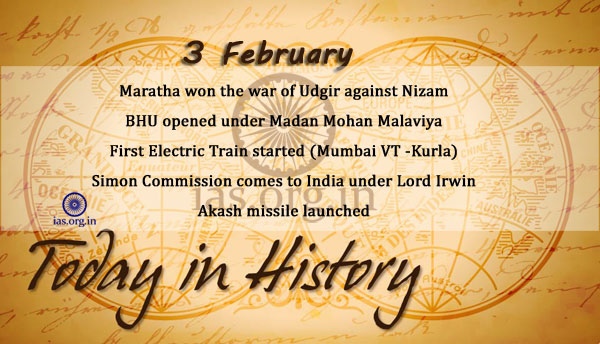 1760
Sadashiv Bhau, under a large Maratha army, defeated the Nizam in War of Udgir.
Bhau was the nephew of Peshwa Baji Rao I, He played an important role in the third battle of Panipat He was the Sarsenapati of the Maratha Army. In the same battle of Panipat, he died fighting. He was the son of Chimaji Appa and Rakhmabai.
1916
Banaras Hindu University was opened under the guidance of Madan Mohan Malaviya in Varanasi, Uttar Pradesh.
It is still one of the largest residential universities in Asia with a strength of over 20,000 students. BHU is a public central university.
1925
First Electric Train started its journey from Bombay V. T. (presently known as C.S.T.) to Kurla. This train was on the Central Railway, Bombay.
The train was electrified on 1500 Volt DC. Later the electric line was first extended to Nasik's Lagatpuri and then to Puna. Till Indian independence in 1947 around 388 km of Railway was electrified in the country.
1928
Simon Commission comes to India under Lord Irwin, after which serious rioting started on his arrival.
1988
INS Chakra was inducted into the Indian Navy when the first Soviet SSN Victor 1 class nuclear-propelled submarine and India joined the maritime nuclear powers.
1994
Akash missile launched successfully. It is a medium-range mobile surface-to-air missile defense system developed by the Defence Research and Development Organisation (DRDO), Bharat Dynamics Limited (BDL) for Missile Systems, Ordnance Factories Board and Bharat Electronics (BEL).
1995
The Transplantation of Human Organs Act, notified after 7 months of Presidential assent, becomes enforceable.