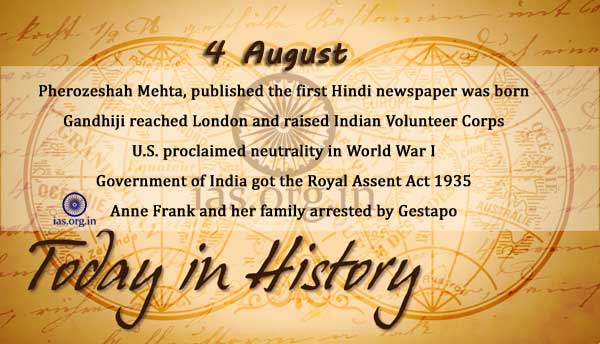 1753
Washington received highest Freemason rank.
1845
Pherozeshah Mehta, who published the first Hindi newspaper and one of the founders of Indian National Congress, was born in Bombay.
1906
Dr. Yashwant Singh Parmar, the architect of modern Himachal Pradesh and an energetic Chief Minister, was born at Chanhalag village in Sirmaur.
1914
Gandhiji reached London and raised Indian Volunteer Corps.
1914
As World War I erupted in Europe, President Woodrow Wilson formally proclaimed the neutrality of the United States, a position that a vast majority of Americans favored, on August 4, 1914.
1933
Gandhi was imprisoned for one year for breaking a restraint order.
1935
Government of India got the Royal Assent Act 1935.
1936
Indian Government Act was approved by the king.
1944
Anne Frank and her family arrested by Gestapo
1956
Apsara, India's first large scale Atomic Energy Nuclear Reactor and first in the East World, was commissioned in Trombay, Bombay.
1964
The remains of three civil rights workers whose disappearance on June 21 garnered national attention were found buried in an earthen dam near Philadelphia, Mississippi. The disappearance of the three young men led to a massive FBI investigation that was code-named MIBURN, for "Mississippi Burning."
1967
World's longest and highest Dam 'Nagarjun Sagar' made by Masonary System was inaugrated.
1997
Maharashtra govt. decided against banning Arun Shourie's book "Worshipping False Gods" on Dr. B.R. Ambedkar.
1997
Nilesh Kulkarni became the first Indian to take a wicket with his first ball in Test Cricket (Colombo).
1997
Supreme Court declared that the Rashtrapati Bhavan press communique of 23/1/1992 on a proposal to confer the Bharat Ratna 'posthumously' on Netaji Subhas Chandra Bose "should be treated as cancelled", as the proposal was dropped by the Government in deference to the sentiments expressed by the public and his family members.
2000
Queen Elizabeth, the Queen Mother and the last member of the British royal family to bear the title "Empress of India", celebrated her 100th birthday.
2012
On this day in 2012 in London, Oscar Pistorius of South Africa becames the first amputee to compete at the Olympics by running in an opening heat of the men's 400-meter.
Related Articles: